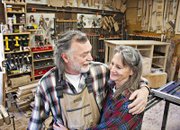 DALLAS -- Joe Huff expertly glides a hand-held plane
across the solid wood top of a custom-built desk he is building in his shop.
The crisp sound resembles the sound of chalk on a blackboard. With each stroke a thin layer of shavings peels off the wood. A slight shininess emerges and the color of the grain intensifies.
The repetitive nature of the work -- and the closeness to the wood -- seems to lend the task a contemplative nature.
"If you've got a problem you want to sort through, (using) hand tools are a good way to do it," Huff said.
In fact, Joe, 55, and his wife, Carolyn, 59, bring that depth of consideration -- in addition to a lot of passion -- to each custom-made piece they build.
Seven years ago, the couple launched Heirloom Woodworks, producing all-custom and mostly handmade furniture, kitchen woodwork and art from the shop that is a 50-foot walk from their home.
The shop mingles the comforting scent of a warm wood stove and slightly spicy smell of cut wood. It's here where Joe and Carolyn found an occupation that changed their lives.
--
The Huffs were the former owners of the grocery store and gas station in Falls City for 12 or so years (they can't quite remember how long).
"About 12 years ago, Carolyn got diagnosed with cancer and we decided to change our lives," Joe said. "For the rest of our lives, we were going to do exactly what we wanted to. It was a total leap of faith because we didn't know exactly what that was."
Carolyn liked to work with plants and worked for awhile at Dancing Oaks Nursery. Joe loved working with wood. They both explored their passions and tried to carve a living out of it.
Photo by Pete Strong
Joe Huff planes a drawer end to smooth the surface of the wood. Planing creates an even smoother surface than sanding could.
"We will make this work," Joe recalled saying at the time. "It's going to work."
It did -- eventually.
"Seven years later it's starting to work," Carolyn chimed in.
Their goal was to live simply and find something they loved to do while still making ends meet. For several years, finding just what that was was a work-in-progress.
"It took a few years," Joe continued. "It's working now. But I tell you what, it's not for the faint of heart -- starting over in middle age and giving up an income and security and all of that. But looking back, there is no way we would do anything different."
Heirloom Woodworks has grown, mostly through word-of-mouth, to the point where they have a waiting list of customers. The couple couldn't be happier.
"I can honestly say that out of the years we've been doing this that there was just one day that I didn't want to come to work and that was because I was kind of sick," Joe said.
--
The Huffs pride themselves on building with only high quality wood -- hand picked for each piece -- and traditional joinery. Joe uses machines for tasks that would take weeks otherwise, but finds the most joy in working with hand tools.
Carolyn helps with project design, marketing and interacting with customers. She also helps out with shop tasks, learning to sand and put finish on pieces, so each step of the process could be done in-house.
"The finishing too, I actually enjoy it," Carolyn said. "We want people to touch and see the depth and beauty of the wood."
She calls her role "less visible," but to Joe it is no less important than his woodworking skills. He seeks out Carolyn's advice when he's stuck on a design for a project.
Photo courtesy of Dani Mouser
The Huffs' work ranges from simple tables and chairs to expansive custom kitchens.
"She has the eye for that, which is great," he said. "Balance and form, that's where I need help. We work good together that way."
Each piece is stamped with Joe's style, which leans toward a blend of Asian and traditional craftsman. But because the projects are custom-made, in many ways they're as unique as the customers requesting them.
"When you are building something for somebody, you meet them," Joe said. "They get to be as involved as they like. And when you're building it, you think of them in the process, which is kind of fun getting to know them
that way."
No matter the customer or look of a piece, the Huffs build it with the intention of it lasting for generations, which takes time. They hope their customers are willing to wait.
"We work a little harder to make it nice," Joe said. "It does take longer to do things right."
--
Joe isn't a trained woodworker in the traditional sense.
"I always made things when I was a kid," he explained, joking that those early projects were more than a little rough. "I'm probably the classic example of self-taught."
He got tips along the way and read books on woodworking, but he said his best teacher was simply experience.
"The only way I got where I'm at now is mostly by finding out what didn't work," Joe said. "You can't be afraid to make mistakes. You just have to get up and keep going."
Joe embraces mistakes as a teaching tool, even to the point of nailing them up on his shop wall as a reminder.
Photo courtesy of Dani Mouser
Heirloom Woodworks specializes in custom-made furniture and custom-designed kitchens.
Needless to say, his craftsmanship has improved dramatically, so much so that Carolyn is hoping for a kitchen upgrade of her own.
"I keep waiting because one of these days, I'm going to have one of these kitchens," Carolyn said, smiling.
With a list of customers waiting, that may take awhile. But Carolyn does have one cherished piece of furniture from their workshop that will never be sold: an oak drop-front secretary's desk.
"That one is mine," she said. "I've lost everything else that he's made, but that one is forever."
Carolyn and Joe don't see a time in their lives that Heirloom Woodworks wouldn't be part of it. Joe said he plans to build furniture until he just can't do it any longer.
"We feel so fortunate to do what we love to do," Joe said. "We will never be rich, but we already feel like we are."
Learn More
Heirloom Woodworks specializes in custom-made furniture and custom-designed kitchens. Each piece is made to customer specifications and input is welcomed at every step.
Single pieces of furniture can take up to a few weeks. A kitchen project may take up to a few months.
Heirloom Woodworks is located at 15525 Ferns Corner Road in Dallas.
For more information: 503-623-4040; www.heirloomwoodworksfurniture.com.