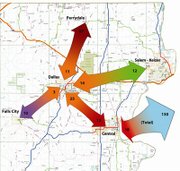 POLK COUNTY -- School districts in Polk County likely will not be opting to use looser out-of-district student transfer rules under the newly approved open enrollment law.
School districts have until March 1 to decide whether they will accept students from other districts during the 2012-13 school year under the open enrollment law passed by the state legislature last session. The new law allows districts to decide before each school year to accept out-of-district students without the permission of the incoming students' home districts. Under current rules, both districts must approve a transfer.
School boards in Dallas, Central, Falls City and Perrydale have discussed or will be discussing the option this month before the March 1 deadline.
However, school officials in Polk County say that area districts work well together on transfers and don't feel the need to change.
"We believe we have a good system that meets the needs of families and students," said Falls City Interim Superintendent Pat Evenson-Brady.
Districts that do decide to use the new policy have the chance of increasing enrollment, but, in turn, have no say if students decide to leave for other districts.
Dallas Schools Superintendent Christy Perry said she will recommend not implementing open enrollment, as least for the time being. Perry said the current policy allows for parents and school officials in both districts to discuss the best situation for the student requesting a transfer. She said if the best environment for a student is in another district, in most cases the transfer is approved.
"We pretty much allow kids to go wherever they need to go," she said.
In some cases it's found that changes can be made by the home district to better accommodate student needs without a transfer. Under open enrollment rules those conversations don't have to take place.
Central Interim Superintendent Forrest Bell said the district doesn't ever deny a request for a transfer -- no matter what the reason. He said in many cases it's just a matter of convenience. For example, he said there are students who live at the edges of the district who are closer to a Salem-Keizer school and wish to attend there.
Open enrollment does come with a potential worry for districts: the possibility of losing more students.
"While we do have some capacity for increased enrollment, it would only be certain grades," Evenson-Brady said. "Falls City is a school in declining enrollment. We always have to be cognizant of that."
Bell said with the policy of allowing students to leave no matter what the reason, Central has already been living with that. In recent years, the district had been able to significantly reduce the number of students opting to go elsewhere. That may become tougher, though.
"When we start cutting programs, the incentive to go find somewhere else is growing," he said. "We have to convince people to stay."
Bell said he will recommend the district keep its current policy because he believes it is useful for a district to be able to ask parents why they are requesting a transfer.
Perry agreed, saying good communication usually results in better outcomes for students.
"It just puts education at the center of the discussion instead of only parent choice," Perry said.
Districts that decide to stick with their current transfer policies -- or that switched to open enrollment -- will have the chance to re-evaluate their choices in the spring of 2013.
Until then, Perry said superintendents in Polk County districts will keep a close eye on how the new law plays out in 2012-13.