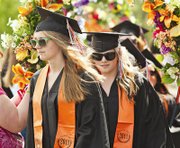 POLK COUNTY -- A majority of Polk County school districts, excluding Salem-Keizer, saw a decrease in the number of students who earned a high school diploma on time in 2010-11 compared to the year before, according to a state report released Friday.
The rate measures how many students who began the 2007-08 school year as a freshman and graduated within four years earning a regular high school diploma.
Only Central School District saw an increase -- from 60 percent for 2009-10 to 65 percent for 2010-11.
Perrydale saw only a slight decrease, from 100 percent reported last year to 95 percent this year, and remained well above the state average of 67 percent. Dallas School District's percent slipped four points from 55 percent to 51 percent. Falls City's fell
from 53 percent to 36 percent.
Dropout rates for the same year fell in Dallas schools from 2.2 percent to 1.35 percent and rose at Central from 3.6 percent to 5.78. The state average is 3.3 percent.
A dropout is defined as a student who has not received a regular, modified, extended, adult high school diploma or GED and has withdrawn from school.
Dallas Superintendent Christy Perry said the district's low four-year graduation rate is partially due to Extended Campus, a five-year program in which students can earn their diploma and complete one year of college courses for free.
In 2010-11, 42 students participated in the program, at the end of which they will receive a regular diploma.
Perry said the program has been a success. So far, 100 percent of the students who enrolled in it have earned a high school diploma and 87 percent finish their first year of college. As the economy continues to limp along, Perry expects more students to use the program to help cut the cost of higher education.
Graphic by Pete Strong
Source: Oregon Department of Education
"We have to be open to appropriate education for all students," Perry said.
Falls City Interim Superintendent Pat Evenson-Brady said Friday she had not yet read the report, but suspected the steep decline in the district's rate is partially due to the small number of students attending Falls City High School. She said a shift in just a few students could result in a large decrease or increase in percentages in data.
"It can look like a pretty dramatic change, even if it's just one or two students," she said. "I'm not defending it, though. We want all of our students to graduate."
To that end, Evenson-Brady said she will be going over the data and information on each student with the district's principals this week to find out what happened with each student.
Central High School Principal Sylvia Warren said the jump in the school's four-year rate is likely due to the district's focusing on improving instruction in language arts and math in recent years.
"We've been looking really hard at getting kids where they need to be," Warren said.
Statewide, the percentage of students who were freshmen in 2007-08 and graduated on time was up 1 percent from the year before and the 3.3 percent dropout rate is a historic low.
Included in the report was the five-year graduation rate for each district. Perrydale, at 100 percent, and Dallas, at 79 percent, were above the state average of 70.5 percent.
Central and Falls City's rates were below the state average at 67 percent and 60 percent, respectively.
Warren said the decline may be the result of cuts in alternative programs that serve special education students and students learning English who may take up to five years to earn a diploma.
"If maybe we had the same programs, they would have been able to complete school in five years," she said.
Falls City's rate, however, improved from 45 percent the year before.
"What that tells me is that students are persisting toward graduation," Evenson-Brady said, noting that the long-term goal for Falls City is to put students on track for on-time graduation.