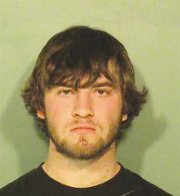 DALLAS -- A Dallas man arrested on assault and rape charges in early June has been indicted by a Polk County grand jury.
Jason A. Davis, 19, is facing charges of first-degree rape, felony fourth-degree assault and strangulation in an incident that occurred May 28.
Davis pleaded not guilty to the charges in Polk County Circuit Court on June 25. He was scheduled to appear in court again Tuesday, after deadline.
According to a probable cause statement included in the case file, Davis went to the home of the victim, a 22-year-old woman.
The statement, which summarizes what the victim and witnesses told police, said Davis was angry and began punching the woman in the stomach repeatedly. This occurred in front of the woman's young child. When Davis stopped punching the woman, she took the child to another room and returned.
At that time, according to court documents, Davis sexually assaulted the woman, forcing her to have sex with him.
The woman told police Davis later laid on top of her and tried to choke her with his hands, causing her to scream. After she screamed, Davis held a pillow over her face, making it difficult for her to breathe. The victim pointed out a bruise and said it was from Davis hitting her.
A neighbor of the woman told police she could hear a disturbance and a woman crying during the time Davis was in the victim's home. The witness said she could hear a woman saying "No," "Don't hurt her," and "It hurts, quit."
Davis told police he had been at the victim's home and that they had argued, but he denied assaulting her or raping her. He said she may have gotten bruises from when he held her to prevent her from hitting him.
The victim reported the incident on June 4 and police arrested Davis on June 9.
He remains in custody at Polk County Jail on $132,500 bail.