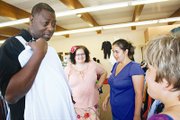 MONMOUTH -- Zellee Allen says he was "naive and inexperienced" when the idea that would lead him to cocreate Partnerships in Community Living first materialized almost 30 years ago.
But what 20-something isn't?
Allen was juggling classes and basketball at what was then Western Oregon State College, along with six or seven part-time jobs to make ends meet.
Some were at facilities for individuals with developmental disabilities. There was a general attitude toward those being cared for as "objects" and an excuse for employment that Allen said always bothered him.
"I didn't really like the way (the organizations) were delivering services," Allen said. "And I had no influence on making changes."
Allen would later create a way.
While at WOSC, he and classmate and partner Joanne Fuhrman began brainstorming how to create an agency that would give handicapped clients opportunities to voice their needs and wants.
In 1986, the two proposed a state contract to care for residents of an area group home that was slated to close. PCL was born.
"And that first year was rocky," Allen admitted. "Establishing our philosophy, the way we wanted to provide service to people -- we're meeting their needs, they're not meeting ours.
"It was a tough thing to get across to people."
Fast-forward to 2012, and PCL has grown by leaps and bounds, with a service area that covers six counties and about 230 clients. Allen said rehabilitative service professionals who once referred to them as "young pups" are now asking for advice.
A figurehead is Allen, the 6-foot-6-inch Monmouth resident who's in his 25th year as the nonprofit's executive director.
"I don't know that I thought I would be here for that long," Allen, 54, said. "But every year, there would always be one more thing that we felt we needed to do and that's kept me here."
Allen grew up near downtown Indianapolis in a household with 13 siblings. He never considered himself poor, "but with only one person working, that's a lot of mouths to feed."
Allen said he believes his involvement with rehabilitative service agencies was driven by his mother, a staunch church volunteer.
"Raising money, helping with church dinners and young single mothers -- she was always involved in some cause," Allen said, adding with a laugh: "And she always dragged us along with them."
Allen moved to Moses Lake, Wash., to play basketball at a community college. After two years, he transferred to WOSC so he could finish his career playing ball.
"I was a center forward," he said. "I could have played guard, but they didn't want me to."
At WOSC, Zellee had aspirations of becoming a college basketball coach. But the idea for PCL monopolized his time and he and Fuhrman developed a proposal to the state for a contract to become a service provider.
This was at a time when reform was happening regarding care of disabled individuals in the state, said Gary Zenzen, PCL director of business development.
"It was decided during the late 1980s that institutionalizing people with disabilities was more harmful than helpful," Zenzen said.
Allen said his and Fuhrman's underlying goal was allowing clients to express what they wanted or how they wanted to live. Most can't do something as basic as driving to a grocery store if they wish, while others may not like their living situations, Allen said.
"There were plenty of voices out there, but nobody was listening," Allen said.
PCL arranged a transportation service for clients first, and was one of the first agencies in the state to do a "paid neighbor" service in which employees would live near clients and provide weekly support. Twenty-four-hour service followed, as did businesses in Monmouth, Independence and Dallas, where clients could receive training, and a job placement program.
"We have a couple of people in the community who have had their jobs for 10 years," Allen said.
In 2009, PCL took over contracts for supported living facilities in Jackson and Josephine counties. With PCL's size now, Allen said different departments compete for his attention.
"Usually, I'm running from one place to the other. But I'm enjoying the changes we're making," he said. "And not just in the people we serve, but our staff, too ... after a while, they get to realize how they can have an effect on somebody's life."
Just the Facts
A look at Partnerships in Community Living by the numbers:
6 -- Counties of operations: Polk, Marion, Linn, Benton, Jackson and Josephine.
230 -- Number of clients
700 -- Number of employees
275 -- Number of employees living in Monmouth and Independence
35 -- Residences operated in Polk County
80 -- Residences in the Willamette Valley and Southern Oregon
4 -- PCL businesses that employ/train clients