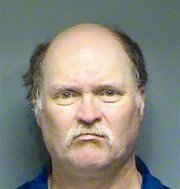 DALLAS -- Officers arrested a Dallas man with a history of sexually violent behavior for allegedly peeping in windows last week.
Police are issuing a warning about the man, Jubal Case, 50, as officials believe watching women through windows was a precursor to his past violent crimes.
Case was recently released after nearly 30 years in prison. He has multiple convictions for robbery, sex abuse and sodomy.
On June 27, the Dallas Police Department received a report of a male subject peering into the back window of an apartment in the 500 block of Southwest Levens Street, allegedly looking at an adult female inside the apartment.
Police located and arrested Case on a charge of second-degree criminal trespassing.
Case is a registered predatory sex offender, which Oregon law defines as an individual who exhibits characteristics showing a tendency to victimize or injure others and who has been convicted of certain sex crimes, a Dallas Police Department press release said. Case is also designated as a sexually violent dangerous offender.
Police said Case has a history of peeping in windows to select his victims. His targets have been adult women and he has victimized women with disabilities. He has a history of threatening his victims with a knife in order to gain their compliance.
Case is currently on post-prison supervision with Polk County Community Corrections, with his residence in the transitional housing unit, 689 Main St, Dallas.
He is 5-foot-8, 175 pounds, with brown hair and blue eyes.
To report any misconduct or violations: Dallas Police Department, 503-623-2338.