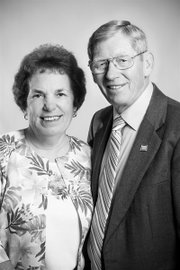 Schellenberg -- 50th
Don and Judy Schellenberg of Dallas celebrated their 50th wedding anniversary with an open house July 1. The celebration was followed by a stay on the Oregon Coast, a gift from the couple's children.
Don Schellenberg and Judy Roth were married June 29, 1962, in Whitewater, Kan. A two-week honeymoon trip in a 1958 Edsel brought the couple to Don's parents' farm north of Dallas, where they joined the farming operation.
In 1980, Don went to work for Oregon Farm Bureau as a lobbyist for farmers and ranchers. He retired in 2008 and the couple now enjoys spending their winters in Yuma, Ariz.
Their family includes Lynne of Independence and Mike (Andrea) of Fortuna, Calif. They have six grandchildren.