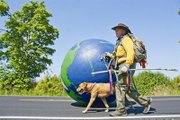 Learn how to make
soap on Thursday
A do-it-yourself class on making your own soap will be offered at Rogue Farms Micro Hopyard on Thursday beginning at 6 p.m.
Tammy Taggard of Farmland Soap will present a full soap-making demonstration. You will learn about the ingredients, equipment and processes needed to do it yourself.
The class is free; food and beer will be available for purchase at the Rogue Farms tasting room. The farm is located at 3590 Wigrich Road, south of Independence.
For more information: 503-838-9813.
Reunion scheduled
for Monmouth High
The Monmouth High School All-School Reunion will be held Sunday at Gentle House, 855 N. Monmouth Ave., Monmouth.
Graduates and attendees will meet from 10 a.m. to 4 p.m., with a potluck lunch at 12:30 p.m. Ice cream and beverages will be provided. Attendees should bring their own place settings, pictures, recollections and news.
Refresh your memories of teacher, Catharine Gentle, and principal Ermine Gentle in preparation for a permanent display of their contributions to historic Monmouth.
For more information: Margaret, 503-606-9540.
Lavender Festival
set this weekend
Lavender Lake Farms will host its fourth annual Lavender Festival on Saturday and Sunday.
The event will include homemade lavender lemonade and lavender ice cream, lavender wreath making classes, lavender wand making classes, large production distillation demonstrations, lavender U-pick and live music.
A number of vendors will be on hand, including jewelry, henna tattoos, charcoal artwork and demonstrations, chair massages and more.
The farm is located at 3395 S. Pacific Highway, between Rickreall and Monmouth. Event hours are Saturday from 10 a.m. to 6 p.m. and Sunday from 10 a.m. to 5 p.m.
For more information: 503-838-2620.
Summer concert
Sunday at Rogue
Rogue Farms Micro Hopyard continues its summer music series with a performance by Love Explosion scheduled Sunday at 3 p.m. at the farm, 3590 Wigrich Road, south of Independence.
All ages are welcome. Cover charge is $3 in advance at www.rogue.com and $5 the day of the show at the farm. Those 12 and under are admitted free.
For tickets or more information: 503-838-9813; www.rogue.com.
Youth Bible camp
will begin Monday
Trinity Lutheran Church and United Methodist Church are teaming to offer a vacation Bible school day camp -- "Adventure is Everywhere!" -- July 16-19.
The camp is for children ages preschool, kindergarten and in grades 1-6. Daily activities include music, worship, outdoor Bible study, singing, crafts, water play and games. Picnic lunch and snacks are provided.
Cost is $40 per child -- scholarships are available and no one will be turned away -- and space is limited. The camp takes place at Trinity Lutheran, 320 SE Fir Villa Road, Dallas.
For more information: Linda Christian, 503-623-3113; Leanna Deters, 503-831-3303.
Raising bees topic
of July 18 meeting
Dewey M. Caron will discuss the basics of raising bees in the backyard and garden during the July meeting of the OSU Polk County Master Gardeners.
The group will meet July 18 at 7 p.m. at Trinity Lutheran Church, 320 SE Fir Villa Road, Dallas. The public is welcome.
Caron will cover the basics of starting up, where to get the information and the equipment you need, and why you might want to consider bee culture as a family activity. Caron will also briefly talk about the new Oregon Master Beekeeper program.
For more information: Judy Hillman, 503-930-9755; e-mail to thegardenmole@comcast.net.