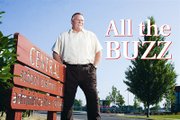 INDEPENDENCE -- By his own measure, Buzz Brazeau's first few days on the job as Central School District's superintendent last week were successful ones.
He finished his walking tour of all of the district's facilities, acquainted himself with more employees, and headed his first school board meeting on July 2.
He took part in activities in Monmouth and Independence during the Fourth of July celebrations, then met with the head of Central's transportation department the following day -- about applying for his bus driver certification.
"Maybe there's a time when I can drive a route or two," Brazeau said. "I think it's important for me to be able to perform things that I'm going to be supervising."
Three months ago, Brazeau was doing his best to stand out from other candidates vying to become the district's leader. Now, it's all about fitting in.
"The goal for me is to connect with as many people as I can," Brazeau, 62, said. "Just because I'm superintendent ... that doesn't mean squat.
"A team is something you have to earn your way into and I've got work to do to earn my way onto the team that is this community."
The transition from principal to superintendent will be challenging, but rewarding, Brazeau said.
"I used to ask myself why we would do things in a certain way as a district," he said. "I have a chance to ask and find out."
Brazeau's path to being an educator involved a detour from the gridiron. A Michigan native, Brazeau's family relocated to Pullman, Wash., while he was still in his teens.
He starred on Washington State University's football team, and was a first-team All Coast offensive tackle before graduating in 1972.
Brazeau played on the Los Angeles Ram's practice squad for two years, then another two for Portland's World Football League franchises, the Storm and Thunder.
Photo by Pete Strong
Central School District superintendent Buzz Brazeau, far right, talks with lead mechanic Phil Serfling at the district's bus barn on Hoffman Raod Thursday.
"This was before they had these big salaries ... you still needed a day job," Brazeau said. "I was doing real estate sales in the offseason."
He signed with the Green Bay Packers in 1976 and had a promising training camp before he hurt his knee. That and a series of nagging injuries effectively ended his professional football career.
"The desire to play, when you understand that it requires enduring a lot of injections for the pain, was gone," he said.
Brazeau worked as a mortgage banker for eight years afterward. An invitation to coach a football clinic in the mid-1980s is what inspired him to become a teacher, he said.
He went back to school, and then took positions ranging from chemistry teacher and athletic director to assistant principal at high schools in Portland and Medford between 1986 and 2004. He became an administrator at Hermiston in 2004 and was promoted to principal three years later.
Asked what he enjoys about the classroom, Brazeau answered: "It's the kids.
"Watching them grow and achieve, whether it's academics or athletics, you're able to sit back and enjoy that you did something to help them improve themselves."
During his time in Hermiston, Brazeau was a board member for the Umatilla County Fair and helped create the Eastern Oregon Event and Trade Center. Intent on connecting to his new community, Brazeau recently volunteered as a tour guide for the Hop & Heritage Festival's Ghost Walk.
"I don't know how you can properly perform a job that's one of the most people-oriented in the world and not be attached to people," he said.
Brazeau said the district must be ready to implement its new achievement compacts and teacher and student evaluation methods that will take the place of some No Child Left Behind standards that Oregon is seeking a waiver from this year.
A priority for Brazeau in the not-too-distant future is a district visioning effort that would involve residents, school employees and students, he said.
"It would look at what needs to happen for us to move forward the way we want to," he said. "And you need staff, the community and the kids equally excited and moving in the same direction."
Meet Buzz
Who:
Buzz Brazeau, new superintendent of the Central School District.
Age:
62
Family:
Wife, Kathy, and five children.
Hometown(s):
Escanaba, Mich.; Pullman, Wash.