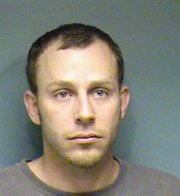 DALLAS -- A grand jury indicted a Dallas man last week on an assault charge for allegedly beating another man that was sent to the hospital with serious injuries.
Michael James Charpentier, 31, is facing a second-degree assault charge, a Measure 11 crime, in a beating that took place in Dallas June 24.
The victim, James Hollingshead, was knocked unconscious during the confrontation and was taken to Salem Hospital and placed on life support, according to court documents.
He remained in critical condition Monday.
According to court documents, the assault occurred near the corner of Southwest Jasper and Rainbow streets in Dallas in the early morning hours of June 24.
Police said Charpentier was at the home of Sarah Marshall, his girlfriend, when he heard banging outside and decided to check it out. Outside, he found Hollingshead apparently attempting to break a window on a car belonging to Michelle Schiller, who is Hollingshead's girlfriend.
The men, who knew each other, confronted each other and began fighting.
Witnesses said Charpentier punched Hollingshead, knocking him to the ground where he struck his head on the pavement. According to witnesses, Charpentier continued to hit Hollingshead while he was on the ground.
When police arrived, Hollingshead's face was bleeding and he was unconscious.
Charpentier told police he and Hollingshead had been fighting and that he hit him once while he was on the ground, but wasn't aware Hollingshead was unconscious.
If convicted, Charpentier could be sentenced to more than five years in prison. He is scheduled to appear in court Tuesday and remains at the Polk County Jail on $100,000 bail.
A trial date is tentatively scheduled in August, but that may change depending on Hollingshead's recovery, said Deputy District Attorney Max Wall.