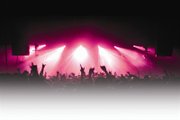 If music in the park and outdoor movies are to your liking, then sit back and prepare to soak in what Polk County has to offer during the next eight weeks.
The cities of Dallas, Independence and Monmouth are preparing to kick off their respective summer entertainment series this week.
All shows and events are free.
If your taste in music is best described as "eclectic," Monmouth's annual Music in the Park Series might be the place for you to be on Wednesday evenings.
This year's concerts, sponsored by the Monmouth Business Association, will showcase everything from Dixieland music to rockabilly and zydeco -- that's Cajun dance music for the uninformed.
"We're always looking to try and bring new genres of music to town," said Monmouth Community Development Director Mark Fancey.
Grab a lawn chair and blanket Wednesday for the first show of the season, featuring Salem's Ted Vaughn Blues Band.
Portland's Soul Vaccination will infuse the stage in Main Street Park on July 25 with classic funk and soul standards from Stevie Wonder, Aretha Franklin and Earth, Wind and Fire.
The Sounds of Summer Concert Series in Dallas will bring something new to the Rotary Performing Arts Stage this season.
Hamilton Loomis Blues Band, a Texas-based electric blues group, is touring nationally this summer and by chance was available for a show in Dallas on July 19.
"It's always by happenstance that we can get national-level talent at Sounds of Summer," said John Swanson, the concert series' organizer.
Then, in a change of pace, Sounds of Summer will welcome Johnny Martin on Aug. 9. Swanson describes Martin as "a classic American, Rat Pack-style jazz singer."
As always, no matter the music genre, there will be plenty of family-friendly fun.
"Bring the whole family out for a show ... come out once or come every week," Swanson said.
This marks the first year of the River's Edge Summer Concert Series, Independence's revamped music and entertainment program.
For the next month and a half, the amphitheater at Riverview Park will be the place to be on Friday nights for bands that run the gamut from jazz to honky tonk.
Blues, soul, funk and rock 'n' roll are all part of the arsenal for the Portland-based Ants in the Kitchen, who will kick off the series Friday.
"All of the music we've booked is vibrant," said Alex Trevino, River's Edge coordinator. "These are very energy-driven acts who interact with the crowd."
If you missed out on The Police's reunion tour in 2008, take note. The Police Experience, billed as the world's pre-eminent Police tribute band, will hit Independence -- the group's only stop in Oregon in 2012 -- on Aug. 10.
While the Police Experience show will be free, attendees are encouraged to make a suggested donation of one or more non-perishable food items that will be distributed to local food banks.
--Craig Coleman and Jolene Guzman
MONMOUTH
MUSIC IN THE PARK SERIES
Wednesdays
6:30 to 8:30 p.m.
Main Street Park
July 11 -- Ted Vaughn Blues Band (blues)
July 18 -- The Twangshifters (rockabilly)
July 25 -- Soul Vaccination (funk and soul)
Aug. 1 -- Swing Time Dixieland Band (Dixieland, jazz)
Aug. 8 -- Bon Ton Roulet (zydeco and Cajun dance)
Aug. 15 -- Bob Manning Honky Tonk Road Show (country western)
Aug. 22 -- Beautiful Wrecks (rock)
Aug. 29 -- Roundhouse (bluegrass)
--
DALLAS SOUNDS OF SUMMER CONCERT SERIES
Thursdays
6:30 to 8:30 p.m.
Rotary Performing Arts Stage
July 12 -- Chris Baum Project (funk/R&B/soul)
July 19 -- Hamilton Loomis Blues Band (electric blues)
July 26 -- Joe Shinkle and 99 West (country western)
Aug. 2 -- Gil Reynolds Band (jazz/funk fusion)
Aug. 9 -- Johnny Martin (classic American crooner)
Aug. 16 -- Jake Blair Band (bluesy groove-rock)
Aug. 23 -- Graber, Souter and Rupp (western gospel)
Aug. 30 -- Johnny Limbo and the Lugnuts (50s and 60s rock 'n' roll)
DALLAS OUTDOOR MOVIES
Tuesdays
Dusk
Rotary Performing Arts Stage
Aug. 14 -- "An American Tail: Fievel Goes West"
Aug. 21 -- "Rango"
Aug. 28 -- "Maverick"
--
INDEPENDENCE RIVER'S EDGE SUMMER SERIES
Fridays
7 p.m.
Riverview Park and Amphitheater
July 13 -- Ants in the Kitchen (blues/soul/funk/rock)
July 20 -- Radical Revolution (80s music)
July 27 -- "Hawaiian Night" with the Koral Jam Band (reggae)
Aug. 3 -- Lock, Stock and Barrel (country/rock)
Aug. 10 -- The Police Experience (80s rock; ticketed show)
Aug. 17 -- Duffy Bishop (blues/jazz)
Aug. 24 -- Blind Driver (soul/R&B/contemporary jazz)
Aug. 31 -- Fiesta Mexicana
MOVIES
Thursdays
8:30 p.m.
Riverview Park and Amphitheater
July 12 -- "Super 8"
July 19 -- "Puss 'n' Boots"
July 26 -- "Footloose" (2011)
Aug. 2 -- "Star Trek" (2009)
Aug. 9 -- "Soul Surfer"
Aug. 16 -- "Cars 2"
Aug. 23 -- "Sherlock Holmes" (2009)
Aug. 30 -- "Transformers"