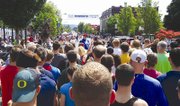 MONMOUTH/INDEPENDENCE -- I wasn't sure what to expect in last week's 40th annual Monmouth-Independence Mini-Marathon.
A year ago, I ran two half-marathons -- mostly as my own sort of mental and physical healing process after tearing my Achilles tendon in the spring of 2010.
This year, I've been, well, a bit lazy.
I run here and there, but there's no real rhyme or reason other than to get some endorphins pumping. So as I arrived for my first Fourth of July in Monmouth -- and in Independence, which I still find ironically funny -- I was a bit apprehensive.
I'm a competitor, so I always get nervous before an athletic event - even if it was only 2.6 miles and not 13.1.
But as I saw those around me, however, I began to loosen up.
There was 82-year-old John Schoon, ready to run with his granddaughter, Stephanie Wilton. I went over to say "hello," glad to have found them.
I smiled as I recognized several "running" faces from my short career here at the Itemizer-Observer: like Western Oregon University runner Dan Sprinkle, WOU twin tracksters Janelle and Megan Everetts (although I wasn't sure who was who), and Dallas High runners Clay Stuhr and Alex Bird.
I even met a couple new faces -- Tom and Diana Rice of Monmouth, who stuck out like patriotic sore thumbs with their Fourth of July top hats and roller skates. The pair were participating in their first Mini-Marathon.
I asked them if they roller skate regularly.
Photo by Nicole Watkins
Tom and Diana Rice talk to fellow competitors before taking off on roller skates in the race.
"Never," Diana Rice said with a laugh. "We just bought them, they're barely out of the box."
Just before the race began, it was announced that the field of 467 (walkers included) was the largest in the race's 40-year history.
I thought there seemed to be a lot of people gathered in front of Monmouth City Hall.
They signaled for us to "Go!" and I was off in just my third -- and shortest -- official race in my 27 years.
I don't know if you've ever ran a race before, but it's loads different than your typical training run, or jog, which is usually what I do.
When you're on a treadmill, there's no one cheering for you.
With our race route following the same path as the Independence Day parade that followed, there were plenty of people cheering, lawn chairs stationed in their places hours before.
With strangers encouraging you, it feels like you can conquer anything. So even though my legs started to feel tired about the time I hit the Independence McDonald's, I kept going.
My breathing became a bit embarrassing toward the end, but I finally spotted the finish line and sucked it up -- passing Central wrestling coach Van Holstad in the process (sorry, Van) -- for a not-too-shabby time of 20 minutes, 55 seconds, good for third in my age division.
After the tone of my face went from a deep shade of red to closer to normal, I found one of the Everetts and asked her if she had won -- Janelle was the top female in 2011.
She shook her head "no" and directed me to the winners -- Linfield College runner Hannah Greider and, for the second straight year, WOU's Dan Sprinkle.
Usually, when I interview athletes after an event, I'm in jeans with a recorder while they're still breathing hard from competition.
As I fired off a few questions to the winners, it was nice to feel a bit of solidarity with a race number, plenty of sweat and a sense of accomplishment.
Nicole Watkins is the Itemizer-Observer's sports editor. She can be reached at 503-623-2373 or via e-mail to nwatkins@polkio.com.
More like this story