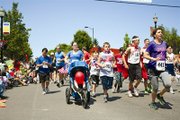 MONMOUTH/INDEPENDENCE -- After owning the title of the top female finisher in the Fourth of July Monmouth-Independence Mini-Marathon, Hannah Greider was asked if she knew who was the male winner.
Dan Sprinkle
"I'm not sure ... they call him `Sprinkles?" she said hesitantly.
Dan Sprinkle, to be exact.
The 22-year-old former Western Oregon University runner did it for the second-straight year, snagging the title as the top overall runner in the 40th annual Fourth of July race with a time of 12 minutes, 49 seconds.
Sprinkle said this year's event -- which featured a record 467 competitors -- was different than his first try.
"There was a lot of people -- there were people next to me this year -- there was competition," he said with a laugh.
Sprinkle finished just seconds in front of 22-year-old Eric Linfield (12:51) to win the running portion, while Kacey McCallister (11:34), who competed in a wheelchair, had the best overall time of the day.
Former Dallas High runner Alex Bird (13:38) finished third overall and first in the male 15-19 age group, Justus Mac George was fourth (13:51) and Dallas' Clay Stuhr was the last to break the 14-minute mark with a time of 13:38.
Hannah Greider
Sprinkle, who qualified for the NCAA Division II Outdoor Track and Field national meet in the 3,000-meter steeplechase this past spring, said the race is just plain fun.
"It's a good workout and I get to wear my banana socks," he said with a smile, pointing to his footwear. "It's fun to have people cheering for you."
For Greider, a 20-year-old from Shoreline, Wash., and a junior on the Linfield College cross-country team, the Fourth of July race was her first. A friend from the area ran it with her.
"I wasn't expecting there to be so many people, figuring it was a small town," said Greider, who finished with a time of 15:25. "It was a lot of fun -- festive."
Last year's female winner, WOU's Janelle Everetts (16:00), was the second-place finisher on the women's side, while Heather Stange, 31, was third with a mark of 16:03. Megan Everetts (16:13) was fourth and Lisa Trimble-Scheirman (16:46) finished fifth.
MINI-MARATHON 2.6-MILE RUN FUN FACTS
Fastest overall time:
Kacey McCallister, 25, 11 minutes, 34 seconds*.
Best male finish:
Dan Sprinkle, 22, 12:49.
Best female finish:
Hannah Greider, 20, 15:25.
Youngest runner:
Kaylee O'Sullivan, 5, 25:55.
Oldest runner:
John Schoon, 82, 25:57.
*McCallister competed using a wheelchair.