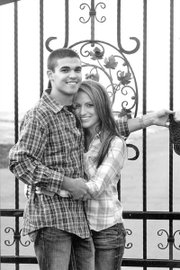 Dalke-Lovell
McKenzie Nicole Dalke of Dallas and Ryan Mitchell Lovell of Dallas are planning an August wedding.
The bride-to-be is the daughter of Michael and Kelley Dalke of Dallas. Her fiance is the son of Bryan and Billie Lovell of Dallas and Lynda and Bill Stein of Salem.
McKenzie, a 2009 graduate of Dallas High School, attends Western Oregon University in Monmouth, where she is majoring in community health. She works as a barista at Dutch Bros. Coffee in Dallas.
Ryan is a 2009 graduate of Perrydale High School. He is employed as a service representative at Les Schwab Tire Centers in Salem.
The wedding is set for Saturday, Aug. 11, at Namaste Vineyards in Dallas.
More like this story