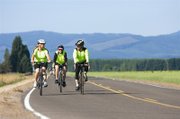 POLK PEDALERS BICYCLE CLUB
What:
A bicycling club for anyone, really, interested in easy rides ranging from 20 to 45 miles in and around Polk County. All that is needed is a bike, a helmet and water.
When:
The club meets one Saturday a month. Remaining rides include: Aug. 12 -- Portland Bridge Pedal; Sept. 23 -- Peach of the Century (Salem); Oct. 27 -- Maple Grove
"Ride of the Colors."
Where:
Rides (other than the Portland Bridge Pedal and Peach of the Century in Salem) typically begin at 8 a.m. and members meet at Courtyard Coffeehouse and Deli, 156 SE Mill St., Dallas.
For more information:
Wayne Sitkei, club vice president, 503-883-1330 or wasitkei@hotmail.com.
DALLAS -- Dragging yourself out of bed on a Saturday morning to exercise is no easy task.
That's one of the reasons Dick Dye wanted to start a bicycling group: for its simple motivation by numbers.
"I would be at home, look out the window and be like, `Oh, the leaves are moving, I guess I won't go today,'" the Dallas resident said of going on a ride.
"So my hope was to find people (to do it too) and be like, `Well, yeah, the leaves are blowing but we have our scheduled ride.'"
That was three years ago.
With some help from fellow Dallas resident and avid bike rider Wayne Sitkei, the two formed their own source of motivation -- the Polk Pedalers Bicycle Club -- and the benefits have included more than just a reason to get out of bed.
Photo by Nicole Watkins
Bruce Sigloh rounds a curve July 7 during the Polk Pedalers, "Perrydale Breakfast Ride," which took the club from Perrydale to Amity, then on to Ballston for a pancake breakfast. Rides typically begin at Courtyard Coffeehouse and Deli in downtown Dallas, but the next two planned outings are in Portland and Salem, respectively.
"The fun thing is, I didn't know that many community people, so it's been fun to see a group of strangers who really didn't know each other come together and as they start to visit, get more and more comfortable," Dye, who serves as the club's president, said.
The group, which rides once a month beginning in April and continuing through October, completed its "Perrydale Breakfast Ride" July 7, a 30-mile ride from Perrydale School to Amity, then Ballston, where pancakes were waiting.
Now in its third year as an official club, the Pedalers average around a dozen riders per outing -- but have been known to have double that amount, depending on the month.
What is most evident, however, is that while these riders are serious about bicycling, it's no Tour de France.
"This is an easy bike club," Sitkei, who serves as the Pedalers' vice president, said. "That's our main thing. We don't want to do fast stuff, ever."
Added Dye: "We're not very intimidating -- everybody's not showing up with super outfits or million-dollar bikes. Most of the time, it's just fun."
Its appeal to people of all ages -- Dye's 9-year-old granddaughter did a ride last year -- and abilities is part of what makes the club so special.
Member Bruce Sigloh of Salt Creek recalled a ride when the clientele's age was on the other side of the spectrum.
"Last fall, we had a Saturday ride and we went out to Oak Grove," he said. "It was about 25 miles there and there were only six people on it, and the youngest one was 68 years old."
The rides range from 20 to 45 miles, plus the group meets regularly in the winter months at its starting place, Courtyard Coffeehouse and Deli in downtown Dallas.
Three rides remain this season, though the Pedalers will travel out of town to join plenty of other riders for the next two: the Portland Bridge Pedal held Aug. 12 and the Peach of the Century Ride in Salem Sept. 23.
The final ride -- the Oct. 27 "Ride of the Colors" through Maple Grove -- might be one worth waiting for, the Pedalers say.
"We ride through Kings Valley, and all the trees have changed colors," Dye said.
That kind of atmosphere is exactly what Dallas resident Nona Springer, who attended her first club ride July 7, said she looks for when going for a ride.
"Oh, it's beautiful -- bike riding is my favorite," she said. "Getting out here in the sunshine, fresh air, the birds singing -- it smells a whole lot better than the gym."