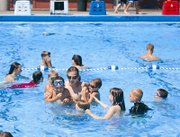 INDEPENDENCE -- Dilyn Gray deftly raced through a field of traffic cones, soldier-crawled his way through a tunnel of foam mats and sprinted over a balance beam, all in about 40 seconds.
The obstacle course inside the gym at Independence Elementary School was meant to represent a fireman's course -- Gray ran with a stuffed sack doubling as a victim over his shoulder.
"It's pretty easy," Gray, 9, said assuredly.
But still fun, sort of like his summer to date, he continued.
Gray is enrolled in the Monmouth-Independence YMCA's Summer Day Camp. Library visits, trips to the Independence pool and canoe and archery outings have been regular occurrences for him during the past few weeks.
"If I was at home right now, I would probably play with my friends," he said. "I'd rather be here -- there's more people and it's more fun."
It's no easy prospect for working parents to find ways to keep children -- especially young ones -- occupied with something constructive during the summer.
Photo by Pete Strong
Felipe Camacho, 8, of Independence acts out the word "zebra" during a game of charades Monday morning.
For about 80 area youths enrolled in the camp, it's been as simple as showing up at IES, the home base, in the morning.
The program is an extension of the organization's regular day care, but provides a full slate of physical activities, arts and crafts, and even field trips to OMSI in Portland or the Oregon Coast Aquarium in Newport.
The M-I YMCA started its day camp in 1991 as an extension of the regular afterschool day care it offers.
"We try to work in an educational element to it, too," said Kevin Couey, interim director of the local YMCA. "It helps bridge that gap between the end and beginning of school.
There are a couple of new components to this year's program. YMCA youths receive free breakfast through Central School District's summer meal program.
Couey said there's been a concerted effort to try and get the kids off campus several times a week to places such as the A.C. Gilbert House or Camp Greider in Salem.
"We want to get them `unplugged,' and get them out there to do stuff," Couey said.
As part of a public service-themed project last week, kids wrote stories about police officers, paramedics and other "everyday heroes." They also made and presented "thank you" cards to staff at Polk County Fire District No. 1.
Becca Carpenter of Dallas has enrolled her 6-year-old daughter, Marissa, in day camp during the last two years. Carpenter works during the day and had done personal day care previously; this, she said, would help ease Marissa into first grade this fall.
"I wanted her to stay busy and to keep learning, even when she's not in school," Carpenter said, noting, "I think she's grown so much."
Carpenter said the family had gone on a weeklong trip to New Orleans recently. Two days into it, Marissa started asking about returning home so she could go to the YMCA and go swimming.
"She was ready to come back before vacation had even started," Carpenter said.
Join the Fun
* Parents can still enroll children in M-I YMCA's Summer Day Camp. Cost is $135 per week. Individuals who enroll for a full-month session -- the next runs from July 30 to Aug. 24 -- will receive a discount. Scholarships are also available.
The M-I YMCA office is now located at 769 N. Main St., Suite C, in Independence. Office hours are 10 a.m. to 4 p.m., Monday through Friday.
For more information: 503-838-4042 or visit http://miymca.net.