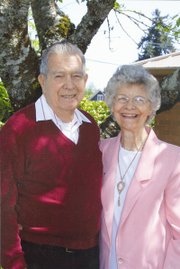 Agee -- 60th
Raymond and Mary Ann Agee of Dallas recently celebrated their 60th wedding anniversary.
Raymond Agee and Mary Ann Schneider were married July 20, 1952, in Worland, Wyo. The Rev. Arthur P. Schnatz performed the ceremony. The couple was attended by Verle Picard and Judith Watt.
The Agee's have lived in Polk County for 21 years, having previously resided in Grants Pass and Pinole, Calif.
Raymond retired in 1989 as a college physics teacher. Mary Ann was a secretary and homemaker.
The Agee's are active at Dallas Alliance Church. Going to the coast is their favorite thing to do and they also enjoy caring for their great-grandchildren.
Their family includes Jim Agee of Salem, Joy Agee of Marsing, Idaho, Robyn Agee of Clearlake, Calif., Michael Williamson of Maryland, and Daniel Agee of Dallas. They have eight grandchildren and eight great-grandchildren.
More like this story