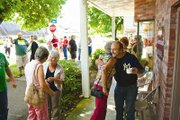 MONMOUTH -- When Nate Allen, a Keizer resident, heard the purpose behind the "flash mob" gathering planned at Main Street Park on Saturday, he felt like it was something he needed to attend.
He and the rest of his family of four showed up at a park on Main Street early -- in Independence.
"There was nobody there and I thought maybe we were the first ones there," Allen said.
They soon realized they were supposed to be in Monmouth. They arrived just after 10 a.m., just as more than 100 people started their march. The destination? Cornerstone Books on Monmouth Avenue.
The purpose? To personally deliver donations to the nonprofit Christian bookstore and show the staff there that they care.
"I couldn't see why it's not a good idea, to come bless somebody and create some unity," Allen said.
This weekend saw a "blessing mob" pour through the doors of the shop, with each individual dropping $2 -- and often more -- on the front counter and offering a "thank you" to staff and volunteers.
"We were delighted," said Cornerstone manager Liz Halligan. "What a sweet idea ... it's an encouragement because one of the biggest issues for us is people don't know we're here."
Pastors from a few Monmouth and Independence churches began hashing out the impromptu gathering several weeks ago, said Pastor Marion Seick of New Life Ministries in Monmouth.
By now, most are aware of the "flash mob" phenomenon that sees people assemble for publicity stunts, playful performances or, in some cases, crimes.
"Cash mobs" have been another outgrowth, where participants will descend en masse on a business and leave money behind to help support owners. Seick said his and other ministries and churches wanted to build on that and target area nonprofits.
"In the future, we hope to do this again, whether a nonprofit is hurting financially or not," he said. "We just want this to be a blessing that lets people know we're aware they exist and that the community cares."
Lori Wootan, whose husband is a pastor for Whole Heart Ministries, said the churches put out the call for people to show up in Sunday bulletins, through websites and Facebook.
"In this economy, this type of event is important," Wootan said.
Contributions totaled $585.
The crowd marched down Jackson Street and through the tiny bookstore, which opened almost three years ago. Dale Halligan, Liz's husband, said they were alerted to the mob a week prior. Without donations and volunteers, Cornerstone wouldn't survive, he said.
"I was kind of stunned when I first heard about" the blessing mob, he said. "I thought it wouldn't really happen -- but this morning was just amazing."