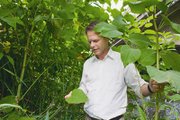 POLK COUNTY -- Peter Guillozet walks beside the bridge that passes over the Little Luckiamute River south of Bridgeport Road and wades through a swath of thigh-high -- and invasive -- reed canary grass toward a towering perennial plant.
"There are weeds," said Guillozet, project manager for the Luckiamute Watershed Council. "And there are weeds."
Occupying this section of the banks is a stand of Japanese knotweed taller than he is. Guillozet brushes back one specimen's lush foliage to reveal bamboo-like stems almost an inch thick. The plants aren't even fully mature.
Guillozet estimates nearly a quarter of the riparian canopy along this stretch of the river is comprised of this intruding weed. Downstream, you can find patches where it's more like 60 percent.
Photo by Pete Strong
Guillozet points out areas along the bank of the Little Luckiamute River near Bridgeport Road that are overrun with the invasive plant, once sold at nurseries.
"There's dogwood and willow mixed with knotweed here," Guillozet said. "Which do you think is going to win?"
Guillozet and the Luckiamute Watershed Council (LWC) hope it's not the latter. The organization has been working with willing landowners to battle the nasty vegetation for the last two years.
LWC has reached out to interested stream-side residents in the Hoskins, Kings Valley and Pedee areas where knotweed infestation is present to participate in a 10-year control project funded by Oregon lottery dollars and private foundation grants.
A separate, one-year award from the state is paying for similar work in the Middle Luckiamute and Little Luckiamute rivers.
This is a free service for affected watershed residents and participation is voluntary, Guillozet said.
"The ideal situation is controlling the weed early," he said. "It's a stitch-in-time scenario."
Invasive plants such as Himalayan blackberry and scotchbroom are "background weeds" compared to knotweed, he added.
"It poses a clear and mounting threat."
Knotweed was brought to the United States in the late 1800s as an ornamental plant. According to the Oregon Department of Agriculture, the first record of the pest in the state was in Lane County in 1965.
It's now widespread in Northwest Oregon. In this part of Polk County, Guillozet said infestations span from the upper reaches of the Luckiamute River to a mile downstream of Highway 99W.
Beaver are helping spread the plant on the Luckiamute and Little Luckiamute rivers by dining on stems and carrying leftovers downstream; knotweed can reproduce from cuttings and root fragments.
The plant takes over stream banks, floodplains and gravel bars, crowds out native vegetation, and alters natural tree regeneration. It dies during the winter, leaving behind tall canes and mostly bare banks.
This translates to degraded wildlife and fish habitat, reduced shade over waterways, and destabilized banks. Knotweed colonies can also make parts of a property inaccessible.
"It's like stepping through a bamboo stand where the canes are 6 inches apart," Guillozet said. "For people who like to recreate on the river, it's a big liability."
About 60 landowners are participating in the project. With permission, contractors walk the rivers and identify infestations. They then apply aquatic-labeled herbicide on treatment sites between July and September over five years.
Work started upstream and is moving downstream to reduce recolonization.
The matter is also personal for Guillozet. He was part of an enhancement project along the Tualatin River almost seven years ago, where knotweed was widespread.
"They now have it almost under control," he said.
Eileen Maxfield, an owner of Bumps Farm in the Kings Valley area, said technicians discovered the weed on the river bank of her pastoral property about a decade ago.
"I was in denial, I didn't want it here," she said.
She's allowed LWC to perform treatment on a section of the land last summer. The weed has been mostly beaten back, she said.
Maxfield said she rarely utilizes the Luckiamute along her property nowadays, and "in that sense, knotweed would have minimal impact on me."
"But I strongly believe that because this land was passed on to me and I want to pass it on, what I do is going to affect other people," she continued. And what somebody upstream does "will have an effect on me."
Just the Facts
* Individuals with property along the Luckiamute and Little Luckiamute rivers can receive help controlling Japanese knotweed through the Luckiamute Watershed Council on their land at no cost. LWC will not share landowner-specific information.
To participate: Peter Guillozet, 541-250-2635; or via e-mail to p.guillozet@gmail.com.
Japanese Knotweed:
*
What is it:
A member of the buckwheat family, the plant is a shrub-like perennial that can grow more than 10 feet tall. Leaves are normally 6 inches long and 3 to 5 inches wide. Greenish white flowers bloom during the summer.
* Habitat:
Near water sources, such as streams and rivers in low-lying areas, waste places.
* Distribution:
It can be transported to new sites by water, wind, as contaminant in fill-dirt or even on the soles of shoes.
* Note:
Research shows it takes at least six years to control knotweed.
--Source: USDA Forest Service, Luckiamute Watershed Council