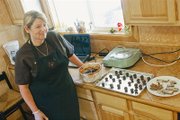 DALLAS -- For Bonnie Andrews, the owner of Melting Pot Candy, making toffee and truffles was originally meant to be a temporary gig between jobs.
But, according to her customers, her candy was just too darn good for her to leave the idea on the back burner, so to speak.
"I lost my job in 2009, when the economy started really going downhill," Andrews recalled. "I had a stack of applications about 2 feet tall that I had put in over two years."
Struggling financially late in 2009, Andrews decided to make extra cash selling toffee throughout the Christmas season.
Photo by Pete Strong
A freshly-prepared batch of Melting Pot Candy's English toffee waits to be packaged after being scored and broken into pieces July 11.
"I've been making the original English toffee for 20-plus years," she said. "It's a family recipe that was handed down to me that I used to make at Christmastime. It's about the same story you hear from a lot of people who make toffee."
It may be a familiar storyline, but she said the response to her original dark chocolate-almond English toffee was overwhelmingly positive.
"I had so many people saying `Why aren't you selling this? Why aren't you doing this full time?'" she said.
That encouragement -- from friends and strangers alike -- gave Andrews the confidence to use her savings to start a toffee business, but still only as a temporary step before landing another job.
She officially began Dallas-based Melting Pot Candy in April 2010, but the idea of it being a secondary career didn't last long.
About a year and thousands of dollars of investment later, Andrews decided she had put too much into Melting Pot to not make a serious go of it.
Photo by Pete Strong
Andrews call the "Hot Mama" jalapeno toffee her favorite among her creations.
"I really, really worked hard at becoming a viable business, marketing myself and doing farmers markets," she said. "I was very doubtful for almost the first two years. I was thinking `Oh my goodness, is this going to make it or not?"
Those doubts are now behind her as she has been able to place her candy in several retail stores in the Willamette Valley -- including six Made in Oregon locations -- and has even won an award at the Oregon Chocolate Festival in Ashland, which named her unique "Hot Mama" jalapeno toffee the "Best Chocolate Candy."
Andrews, a native of Arizona, said it's her favorite.
"When you grow up in Arizona ... peppers are our thing," she said. "I'm the youngest of six (siblings) and we would hang out in the kitchen and challenge each other to who could eat the most peppers or the hottest peppers. Everybody in the family loves hot and spicy foods, so it was just something I had to do."
Eating the toffee is a unique experience. Andrews said you don't taste jalapeno, but you feel the heat of the peppers.
Photo by Pete Strong
Andrews works on a batch of truffles at her home July 11. Her list of recipes is constantly expanding and she experiments with new flavors to create her latest items.
"The heat and sweet together is really, really delicious," she said. "It will take about a five count and then you will feel the heat in the back of your throat.
"It really just wakes your taste buds up. Your mouth just explodes with flavor. That's what I love about it. It's fun for your mouth."
Much to her surprise -- Melting Pot customers seem to like it as much as she does. She's even had a woman call her early in the morning -- twice -- just to tell her the jalapeno toffee was the best she's ever tasted.
Still, Andrews said operating the business isn't easy. She does all the cooking, marketing and preparing to attend food, wine and candy festivals across the Northwest.
Andrews even packages her candy by hand.
Her son, Chris, runs the Melting Pot booth at area farmers markets, including Dallas' Polk County Bounty, and accompanies her to festivals, but she does everything else.
That being the case, it's a good thing that she so clearly loves what she does.
"I have a lot of fun experimenting with flavors," Andrews said. "I'm so happy to be doing it full time now and actually making a business out of it."
Andrews has amassed quite a collection of chocolate flavors, including espresso, cherry, mint and hazelnut truffles. In addition to her original English toffee and famous jalapeno, Andrews makes several other combinations, such as blueberry and a new cinnamon pecan flavor. Her recipe list is constantly expanding.
She uses as many
natural, local and fresh ingredients as possible. For dark chocolate lovers, most of her creations will be a delight.
"I was doing everything with dark chocolate because it's health food, right?" Andrews quips.
For those looking for a little savory with your sweet, she makes chocolate-covered bacon.
Andrews has a sense of adventure when coming up with new recipes, a trait she believes comes from traveling and being willing to try cuisine from other locales. She once used a variation on banana cream pie -- using chocolate cookie crumbs for the crust -- as inspiration for her banana truffle.
"I'm not afraid to try different foods and pair different flavors," she said.
But all of that takes time to experiment with and refine. Andrews laughs when asked how much time she spends making chocolate.
That varies depending on her event schedule, but there's rarely a day that goes by when
she isn't cooking a batch of something sweet.
She doesn't mind. To Andrews, the time in the kitchen, marketing and operating booths at festivals are all worth it to see her customers react to her handcrafted candies.
"It makes people happy, doesn't it?" she said.