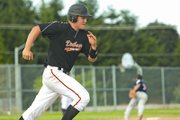 SALEM -- The Post 20 Wilson Dirtbags fell short in their bid at Sunday's American Legion AAA Super Regional championship, dropping a decisive 6-4 Game 2 to Medford at West Salem High School.
The Dirtbags, comprised of players from Dallas, West Salem, Central, Santiam Christian and Sweet Home high schools, needed two wins against Medford in the final -- they got just one, winning Game 1 of the title matchup, 4-3.
Medford advances to the American Legion AAA state tournament in Portland beginning Wednesday.
Dallas senior Kade Fast picked up the Game 1 win with a complete game, scattering 10 hits to go along with four walks and a strikeout.
"It was a real gutsy performance by him," Dirtbags coach Kellen Walker said of Fast.
Central senior Branden Cutsforth went 2-for-4 at the plate and Brenden Shaffer (West Salem) was 2-for-4 with an RBI in Game 1.
In the decisive Game 2, Ryan Snow (West Salem) went 2-for-5 and Colby Rice (West Salem) threw five innings on the mound, striking out four.
The Dirtbags defeated Team Sports (David Douglas) 13-0 in the tournament opener Friday, then fell to Medford 10-0 Saturday before rebounding with a 24-11 win over The Dalles to advance to Sunday's title game.