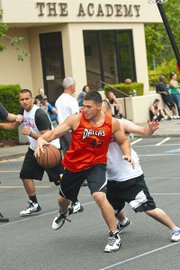 DALLAS -- The annual Dallas Summerfest 3-on-3 Basketball Tournament was held Saturday outside the Academy Building in Dallas.
Here are this year's winners:
MEN'S DIVISION
Champion:
Team Dynasty (Martin Hurst, Garold Howe, Patrick Waugh).
Runner-up:
McDonald's Breakfast (Tyler Brostrom, Josh Jackson, Nathan Cameron, Jesse Boustead).
Photo by Nicole Watkins
LaCreole eighth-grader Ashlee Lichtenberger drives to the basket during play Saturday in Dallas.
HIGH SCHOOL DIVISION
Champion:
2 Raw (Elias Garza, Oscar Chavez, Ben Finnegan, Kevin Stevens).
Runner-up:
The Dream Team (Chan Bal, Hayden Broadus, Trevor Nash).
MIDDLE SCHOOL DIVISION
Champion:
The Ballers (Harrison Broadus, Jake Collins, Erin White, Jake Ronco).
Runner-up:
Team USA (Cooper Butler, Jaret Stewart, Evan Courtney.)
GIRLS DIVISION
Champion:
Hoopstas (Sarah Zwicker, Becca Ronco, Megan Ronco, Ashlee Lichtenberger).