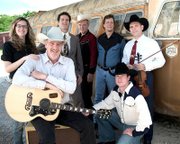 Opening reception
for art exhibit set
An opening reception for "Stasis-Evolution," an exhibit of the works of Marcus Bellon and Xinchen Ma, takes place Wednesday from 4:30 to 6 p.m. at the Dan and Gail Cannon Gallery of Art.
The gallery is located inside Campbell Hall on the Western Oregon University campus, 345 N. Monmouth Ave., Monmouth.
The exhibit will be open to the public through June 16 during regular gallery hours, Monday through Friday, 8 a.m. to 5 p.m.
For more information: 503-838-8607.
Rogue to host DIY
paddle-craft class
Rogue Micro Hopyard will help you choose the right paddle-craft during a workshop Thursday at 6 p.m. at the farm at 3590 Wigrich Road, south of Independence.
If you're interested in learning about paddle sports, this is an opportunity to talk with the pros. Kate Ross from Willamette Riverkeepers will present a virtual tour of the Willamette River, Paul Kuthe from Alder Creek Kayak and Canoes will bring boats and cover how to select the best paddle-craft for you.
This is a free event; food and beer can be purchased at the farm's tasting room.
For more information: 503-838-9813.
Aircraft group will
offer rides to youths
Independence Experimental Aircraft Association (EAA) Chapter 292 will offer youths ages 8-17 airplane rides Saturday from 8:30 to 11 a.m.
The activities take place at the EAA's hangar at the Independence State Airport, 4803 Airport Road, Independence.
A parent or guardian must accompany participants to the event to sign permission forms.
For more information: Bob Schwarzler, 503-838-1395.
Clothing giveaway
planned Saturday
The Encourager Class at Salt Creek Baptist Church will be giving away clothing to those in need Saturday from 10 a.m. to 3 p.m.
The free distribution takes place at the Falls City Community Center, 320 N. Main St.
Clothing for infants, children, women and men will be available.
For more information: Judy, 503-623-8740; Gail, 503-623-2450.
Grange will host
Sunday breakfast
Buell Grange will host its monthly Second Sunday Community Breakfast on June 10 from 8 to 11 a.m.
Cost is $5 per person, and the menu is scheduled to include your choice of pancakes, sausage and eggs; hash browns, sausage and eggs; or French toast and sausage. Meals include juice and coffee. A breakfast burrito will also be available.
The event is a fundraiser. Proceeds go toward the maintenance of the Buell Grange Hall, located at 5970 Mill Creek Road, just off Highway 22 northwest of Dallas.
For more information: 503-623-8462 or 503-843-4703.
Rogue to host farm
tour, salmon bake
A summer full of activities and events kicks off in earnest at Rogue Micro Hopyard with a salmon bake Sunday.
The hopyard will be open from 11 a.m. to 9 p.m. A hopyard tour will be offered at 3 p.m. and salmon served at 5 p.m.
Cost is $20, which includes a serving of salmon, side dishes and one Chatoe Rogue beer. Space is limited and reservations are required.
For tickets or more information: 503-838-9813.
Telescope-making
class being offered
Those interested in participating in a July telescope-making class with famed astronomer John Dobson are encouraged to attend a meeting on June 13.
The gathering will take place from 7 to 9 p.m. in Monmouth to register, order glass for making mirrors and to receive instruction for gathering telescope materials.
Call Garth Eliassen at 503-838-5697 or by e-mail at eliassen@ados.net for the meeting address.
The telescope-making classes will be held Mondays and Wednesdays from July 2-30 from 7 to 9 p.m. Enrollment fee is $150.
Dobson, 97, is founder of the Sidewalk Astronomers and designer of the Dobsonian telescope. The large-aperture telescopes can be cheaply made and have revolutionized astronomy, amateur astronomers and the public.
Workshop for horse
owners scheduled
Old Mill Feed & Garden is accepting registration for a horse owner's workshop conducted by Purina feeds scheduled June 16 from 11 a.m. to 5 p.m.
Attendees will get an inside look at the latest in equine nutrition, health care, veterinary issues, and more. The workshop will provide horse lovers the opportunity to meet their local equine specialists -- from veterinarians to groomers -- and learn how to better care for their horses.
Tri-tip beef sandwiches will be available for purchase.
Old Mill Feed & Garden is located at 1313 Main St., Dallas.
The event is free but preregistration is required.
For reservations or more information: 503-831-1222; www.oldmillfeed.com; www.facebook.com/oldmillfeed.
Dallas grads slate
50-year class event
Dallas High School's Class of 1962 has scheduled a 50-year reunion weekend July 20-22.
The group will meet for a walk down memory lane at Dallas High the evening of July 20; there is a golf and lunch event at Oak Knoll Golf Course and a dinner at Spirit Mountain Casino planned July 21; and a breakfast at the Spirit Mountain Cedar Plank Buffet on July 22.
Reunion organizers are also looking for classmates Tom Kalbus and Betty Todd.
For more information: Carol Chaney, 503-623-5187 or 503-881-5810; Gary (golf only), 503-581-9239.
DHS Class of '92
schedules reunion
Dallas High School's Class of 1992 will hold its 20-year reunion June 29-July 1.
Activities scheduled include a tour of Dallas High School, no host pizza at Ugo's and a no-host gathering at North Dallas Bar and Grill on June 29; an all-you-can-eat buffet dinner at Eola Hills Wine Cellars on June 30; and a picnic at Dallas City Park on July 1.
For more information: E-mail to Kim at ckgaskin@comcast.net or Seth at s_j_reimer@yahoo.com; see Facebook page for Dallas High School Class of '92.
More like this story