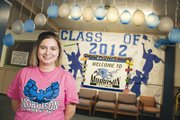 DALLAS -- Kylee Lewis is in many ways no different than any other high school senior.
She's excited -- and nervous -- about her upcoming graduation. She's making plans for college and a career. She's considering what she will miss once high school is over and what awaits her as she ventures into the world as an adult.
Lewis, however, is different from most other soon-to-be graduates in one respect: She's unable to speak.
Lewis has a condition called selective mutism, an anxiety disorder on the autism spectrum that prevents her from speaking in most social settings. She can speak at home and around family members, but in other settings -- including school -- she is incapable of verbal communication.
Until two years ago, the condition severely hampered her education.
"My selective mutism has affected me throughout my school years in the fact that I cannot communicate verbally with my teacher," she wrote in an e-mail interview. "I get frustrated very easily because I can't tell anyone when I'm confused or do not understand things."
Lewis has attended Dallas schools since kindergarten and had mixed results in traditional classroom settings. In addition to her being unable to speak, Lewis often needed extra explanation of assignments, something that her teachers may not have had time or realized they needed to do for her.
"This isn't a widespread disorder," said Lewis' stepfather, Robert Lewis. "They didn't know how to deal with it."
Lewis' stepfather and her mom, Tera Lewis, said they spent countless hours at her schools trying to find ways for their daughter to succeed in class.
By the time she began high school, Tera Lewis had begun to lose hope her daughter would graduate.
"She would stay home at least one day a week," her mom said. "That didn't count the three or four times per week when she would call asking to come home. Kids at the high school made fun of her. They didn't understand why she couldn't speak."
Over the years, Kylee Lewis learned to use written communication -- and eventually text messaging -- to ask questions in class and teachers allowed her to record required speeches and presentations at home.
Still, some problems persisted.
That is until Lewis enrolled in Morrison Alternative School.
She considered the move her last hope.
"I know others who attended Morrison in the past and seen what it did for them," Lewis said. "I was struggling a lot at Dallas High School. I knew if I could get into Morrison I finally would stand a chance at graduating."
More than just graduating, Lewis has maintained straight As, compared to the Cs and Ds she was earning at Dallas High.
Her success in the new environment surprised her parents.
"I noticed a difference within the first month," Tera Lewis said. "She was actually excited to go to school. When she was at the high school, it was a struggle just to get her out of bed. I didn't expect her to blossom the way that she did."
Kylee Lewis said the class format is different, with students only focusing on two subjects at a time. Smaller classes give teachers more time to spend with students and with only three teachers, the entire staff was aware of Kylee's challenges. They discovered ways to help her, even learning to read her expressions and body language.
Her peers at Morrison also were more understanding. In fact, Lewis felt welcomed.
"The students at Morrison, they don't really seem to care that she doesn't speak," Tera Lewis said. "They just include her at Morrison in everything they do."
Instead of being a struggle, her junior and senior years proved to Kylee that anything is possible.
"My favorite part (of high school) would be getting accepted to Morrison Campus," she said. "And having the most awesome teachers and staff around. They have made my last two years of high school fun and exciting."
Lewis even began to think about the future. She had long wanted to work with children and has set her mind to becoming a neonatal nurse. Lewis will begin classes at Chemeketa in the fall, attending through Dallas School District's Extended Campus program.
If her first option doesn't work out, she said she will learn sign language in hopes of working with hearing impaired children.
For the moment, however, Lewis and her family are going to enjoy her achievement.
"I'm a little nervous," Tera Lewis said. "I don't want to admit it, but I'm probably more nervous than she is."
Kylee Lewis said with graduation fast approaching, she has mixed feelings about moving on to the next stage in her life.
"Graduation is something every child looks forward to," she said. "But now that it's here, I am excited, nervous and sad all rolled into one."