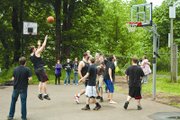 FALLS CITY -- The new basketball court at Riverside Park in Falls City isn't quite finished, but that hasn't stopped people from using the new hoops.
The former court -- really just a tennis court converted into a makeshift basketball court -- has new asphalt and permanent hoops.
Once finished, the court will have a chain-link fence around it and painted lines, making it suitable for full-court games -- without worry of losing basketballs to the nearby Little Luckiamute River.
Already, it's becoming the gathering place Falls City High School seniors Stephen Reynolds, Nathan Bowman and Deven LaVoie had hoped it would be. The trio made raising money and building a new court their senior project after struggling to find suitable places to play ball in town.
"People are hanging out at the park," Reynolds said. "Everyone has been going down there to play."
He's seen people at the park playing shooting games like H-O-R-S-E. There's even been a few three-on-three pickup games. Players still have to be cautious, though.
"Nothing full court yet -- the fence isn't in -- that way the ball doesn't get out of control," Reynolds said.
The trio raised about $2,600 for the project through donations and a benefit concert, a little short of their $3,000 goal, but were still able to finish the work.
Reynolds said they had a lot of help, from material and supply donations, people volunteering time to help build the court, or community members and businesses offering donations.
They also shopped around for supplies and were able to find good deals. Reynolds said they had planned to spend about $1,000 each for the two new hoops, but found a sporting goods store that had them on sale for a quarter of the cost.
"We really scored on that," Reynolds said.
The extraordinary amount of support, and the guidance of project adviser Mike McConnell, a Falls City resident, has the court on track to being finished just in time for the beginning of summer break.
Originally, the seniors thought they would have to pass the project off to another group -- or at least work into the summer -- to see it finished, but there won't be a need for that.
"I thought maybe it would go further into June," Reynolds said. "We've made a lot more progress -- sooner than we thought we would."
Reynolds said once the court is complete, the group plans to hold a ribbon cutting ceremony, and perhaps a barbecue and inaugural basketball tournament to celebrate.
"It feels like its been a really successful project and beneficial to the community," Reynolds said.