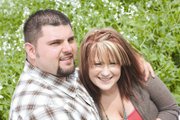 White-Caplinger
Heather White of Monmouth and Michael Caplinger of Monmouth are planning a July wedding.
The bride-to-be is the daughter of Scott and Nancy White of Monmouth. Her fiance is the son of Mike and Lisa Caplinger of Ashland.
Heather, a 2003 graduate of Central High School in Independence, received her Bachelor of Arts
in interior design in 2007 from Oregon State University in Corvallis. She works as a barista at Brooks and Terry's Espresso in Dallas.
Mike, a 2003 graduate of Ashland High School, received his Bachelor of Arts in exercise science in 2009 from Western Oregon University in Monmouth. He is employed
at Home Depot in Corvallis.
The wedding is set for Saturday, July 21, at Eola Hills Wine Cellars in Rickreall.
More like this story