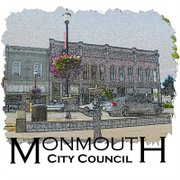 MONMOUTH -- City Council has shot down Marr Bros. Bark's request to adjust the zoning of its property on Monmouth's long-term planning map, dashing the business' desire to expand.
The issue has been debated for several months, with owners Jim and Penny Marr seeking to utilize more of their land for wood product storage.
Residents of the adjacent Edwards Addition subdivision, meanwhile, have argued it would impact their quality of life.
"Statewide land-use planning has served Oregon very well, but there are times, and this might be one of them, where you say `Damn,'" said Mayor John Oberst at the June 5 council meeting, noting that the city was bound to follow planning criteria that the Marrs' proposal didn't meet.
"I wish there was some way I could support the local, longtime resident and that there was a different application in front of us," Oberst said. "But at the end of the day, this is the one we have to make this ruling on."
Marr Bros. operates on 10 acres of land just south of Monmouth. The Marrs wanted to rezone 16.3 acres of adjacent unused property that's under Polk County jurisdiction from residential to light industrial to move product piles and make the business more usable for customers.
Because of an intergovernmental agreement, the county won't consider a proposal unless the town redesignate the land on its comprehensive plan map.
"The zone change with the county cannot now be pursued," said Frank Walker, a consultant for the company. Asked if the operation would appeal or consider relocating, he said, "All other questions are still up in the air."
Map amendments require individuals to show that the existing zoning on the map is wrong, that development conditions have changed with time or that a public need can be met by changing the land use as requested.
It's the latter standard that the Marrs based their attempt on and came up short. City officials stated that the company was arguing market needs and that there's a growing commercial and residential demand for bark and sawdust products.
But there are no demonstrated land needs for the city as a whole, said Mark Fancey, community development director.
Monmouth already has 115 acres in its urban growth boundary envisioned as industrial land that must first be developed.
Because the operation sits in the county, the city wouldn't be able to enforce restrictions on industrial uses, despite the plant sitting next door to a residential subdivision.
"As long as this is a county property, and with the limited scope we can look at it under, saying there's a public need -- I think it falls short," said Councilor Ben Meyer.
"We're not able to come to some grand compromise to work with the applicant and give assurances to homeowners that they'll be protected," Meyer added.