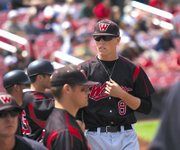 MONMOUTH -- Coming out of Junction City High School, Grady Wood didn't have time to entertain realities of playing pro baseball.
He was just trying to get recruited to play college ball.
"I was always kind of short and chunky," Wood admitted with a laugh.
That's what makes his journey - from Junction City, to two years with Chemeketa Community College, to two record-setting years with Western Oregon, to now, a 10th-round pick of the Seattle Mariners in last week's Major League Baseball Amateur Draft - so very special.
With the 311th overall pick, Seattle selected Wood -- a two-time Great Northwest Athletic Conference Pitcher of the Year and 2012's GNAC Athlete of the Year -- making him the highest draft selection of a WOU player in program history.
WOU senior Jason Wilson was also drafted, going in the 26th round to Tampa Bay.
Wood's road to the pros started with humble beginnings -- and a much-needed performance in his final summer league baseball game as a graduated senior.
"Chemeketa was my only offer out of high school and I didn't get that until the last day of my summer season," Wood said.
"We played (Chemeketa head coach) Nathan Pratt's team, and that was probably my only good game of the whole summer."
"Luckily, it was against them, or else I would have been a walk-on somewhere, maybe not even played (college baseball)."
Pratt, who was in his first season as a head coach after spending three seasons as the top assistant at WOU under current coach Jeremiah Robbins, said Wood was definitely a work in progress.
Jason Wilson
"I had seen him before (that game) and his body was really immature," Pratt said. "But he definitely had some flashes of having some good stuff.
"... He was one of the first guys we signed as far as pitchers -- but I'm not going to sit here and say that we thought he'd be a 10th-round draft pick."
That progression, Pratt said, came with Wood's development both physically, and perhaps more importantly, mentally.
"His freshman year was rough for him," Pratt said. "He had to mature a lot as a young man. Physically, he had to grow -- he didn't have the strength he needed.
"But he had great determination and was willing to make the changes that were necessary for him."
Wood said that meant hitting the weights, working on his confidence, and then, in the summer before his sophomore year, changing his arm slot.
"I went from being an over-the-top pitcher to sidearm, my velocity went up and everything just started to fall into place after that," Wood said.
It started with a solid sophomore season at Chemeketa, and then followed with an 8-4 junior year with WOU where he won his final eight contests and was named GNAC Pitcher of the Year in 2011.
His maturity only shined more this past season, as Wood didn't lose a contest (12-0) and finished the year just one win short of the NCAA Division II all-time consecutive win mark of 21.
"His biggest growth was between the ears -- mentally," Robbins said of Wood, while adding that his transition to a three-fourths arm slot was monumental.
"That was probably the biggest thing that allowed him to be successful on the mound," Robbins added. "When he dropped that arm slot, it created some movement on his fastball that I have never seen before.
Photo by Pete Strong
Grady Wood fires a pitch during the NCAA Division II regional in May.
"It took a lot of stress off his shoulder, his velocity jumped up as he matured physically and he was throwing 87-90 (mph) balls that were running and doing some pretty cool stuff. That was the biggest thing that allowed him to be where he's at."
Wood has until July 13 to sign a contract with the Mariners, although he will most likely sign quickly in order to start playing for the Everett AquaSox, Seattle's short-season Class A affiliate in Washington.
Everett plays in the Northwest League, the same conference as the Salem-Keizer Volcanoes.
Wood -- who is 60 credits away from his exercise science degree -- said he plans to take finals at WOU this week and then will report to Everett, if that's where he's assigned.
"It looks like school will have to wait for now -- school will always be there, baseball won't," he said. "You've got to play for as long as you can."
From here, both Wood and Wilson -- who has yet to sign with Tampa Bay, for that matter -- have nowhere to go but up.
Wilson, who also pitched two years at Chemeketa after playing his prep days at Summit High in Bend, was 5-2 this season on the mound, a year after missing much of 2011 due to academic issues.
He turned it around in the classroom with a load of 17 credits last fall to get back on the field, where he was named to the all-GNAC first team.
"I think they're prepared for what they're going to get into -- the right things need to happen, they'll need a few breaks -- but when it comes to their stuff and what they do when they throw the baseball, that's pretty special," Robbins said of both players.
"They've got the tools to strike people out and get people out."
For Wood, the whirlwind of his dreams -- perhaps rather distant four years ago -- becoming realities has just begun.
"I don't know what I thought (then) -- but I always believed that this would come if I worked hard enough -- and it did," he said.
GRADY WOOD: BY THE NUMBERS
311 --
Overall selection of Grady Wood in the MLB draft. Wood, taken in the 10th round, is the highest selection ever for a WOU player.
20 --
Consecutive games won by Wood dating back to the 2011 season, just one shy of the all-time NCAA Division II record.
1.69 --
Wood's ERA for 2012. Opponents batted just .199 against him, a WOU record.