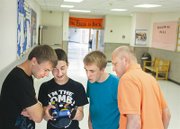 DALLAS -- Movie theaters will be featuring a plethora of films about heroes with superhuman powers during the summer.
This weekend, Justen Noll, an incoming sophomore at Dallas High School, is hoping people will want to meet another kind of hero: a troubled teenager.
No costumes. No radioactive spider bites.
Noll, 15, is introducing a short film he directed and produced dealing with the issues of grief, bullying and a teenager's response to the turmoil in his life. The film is called "Hero Unknown" and it will be shown twice at DHS' Bollman Auditorium Saturday night. All proceeds from the shows and DVD sales will benefit the DHS theater department.
Noll said he's a fan of DHS play productions and hopes to earn enough money with his film to help the program.
"They put on really good productions," Noll said. "I think with the extra proceeds, maybe they could put on grander productions."
Noll began writing the script this spring, intending it to be a story about a teen's random good deeds. Through collaboration with other students and actors, the script evolved into a story about a trio of boys: the main character Peter, his friend Ryan, and a blogger, Jake.
In the film, Peter feels compelled to help others, even at one point defending a younger boy from Ryan, who has become a bully.
Peter doesn't want recognition, but Jake has been posting footage of him without his knowledge, leading to confrontations between the boys.
Peter isn't a perfect protagonist, Noll said. He is dealing with the death of his parents, which is revealed in the film's first scene, and doesn't seem to understand his own behavior. Noll said he likes the idea of having Peter be an antihero.
"It's good for people to see that heroes don't have to wear capes, that they are not always all good," he said.
The film's cast members said they were intrigued by the theme of bullying.
"I think it's a good topic for us to be covering," said Paul Disney, who plays Peter.
Jackson Geiger, who played leading roles in DHS productions of "Godspell" and "A Midsummer Night's Dream", is cast as Ryan.
He said Hero Unknown offers a realistic portrayal of bullying, which doesn't reduce it to a high school cliche.
"It's an important issue," he said.
Noll has posted trailers on YouTube and placed posters around town to promote his film, but he's not giving out any spoilers -- not even to his mom.
Photo Pete Strong
Justen Noll films a scene from Hero Unknown. The incoming sophomore at Dallas High hopes the film will spur interest in a film club at the school.
"I have to go on Facebook to see the trailers, even though it's all happening in my living room," said Wendy Noll. "It just amazes me that he has these ideas and wants to put them into film."
Noll is just beginning with Hero Unknown. He has three other films in the works and hopes to start a film club at DHS. He's also looking into hosting a local film festival, complete with awards.
Noll admits to being slightly nervous about Hero Unknown's premiere, but not for the reason you would expect.
"I'm most nervous about how well it's gone," he said. "It's taken off and it's actually happening."
Hero Unknown
When:
Saturday evening showings at 7 and 8 p.m.
Where:
DHS Bollman Auditorium, 1250 SE Holman Ave.
Admission:
$2, tickets are at the door.
Of note:
Justen Noll - writer, director, editor.
Producers: Justen Noll, Nathan Beaton and Cooper Noack.
Executive producers: Conor Schetzel and Andrew Thornton.
Actors: Paul Disney as Peter, Kyle Stockdall as Jake Harris, Jackson Geiger as Ryan, Luke Disney as Drake, Erich Berg (DHS English teacher) as Mr. Brooks and Steve Dickerson (DHS Social Studies teacher) as Principal Stevenson.
DVDs will be available following both showings for $5.
For more information:
http://jnfilms.webstarts.com.