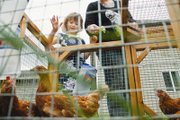 MONMOUTH -- Monmouth may give backyard hens a chance -- a short-term one, at least -- beginning this summer.
City Council introduced an ordinance last week that will lift the ban on poultry inside town limits. Residents would be able to keep up to five hens in their backyards and side areas without the need for special permits.
Staff drafted the proposal following months of lobbying by the Monmouth-Independence Chicken Revolution, a group campaigning to keep the birds as pets.
Another factor was the mostly positive feedback from 350 people who responded to a city survey on backyard hens.
The caveat? The ordinance expires in two years, a suggestion to alleviate concerns by a split council.
"If the chickens haven't had much of an impact on the community, we'll make the rules permanent," said City Manager Scott McClure. "If we're getting a lot of complaints about birds getting loose, odor or that things aren't manageable, we'll end it."
Council held a first reading of the ordinance on June 19 and will vote on it next month.
Domenica Protheroe, a "Revolution" coordinator who lives in Monmouth, said she was happy with the compromise and has begun coop shopping.
"I am confident that Monmouth will find that backyard hens will not pose a problem," Protheroe said. "Dozens of other cities in Oregon welcome hens without issues."
Chickens have been a topic of debate since 2011, when proponents mounted a campaign to legalize the birds in Monmouth and Independence.
The latter city legalized chickens in March, with permit and fee requirements. Six people in Independence have applied to keep chickens on their property since then.
In Monmouth, a point of contention was the cost and time involved in regulating chickens and processing permits. McClure said the city doesn't require permits for dogs and cats, and took the same tact with chickens.
"We're hoping people will follow the rules," he said.
Councilor Chris Larsen said he doesn't have a problem with people keeping the birds, but doesn't want to burden uniformed police officers or other staff with regulating it.
"And the city went through its peacock episode," he continued, referencing town efforts to trap feral birds in the Sacre Lane neighborhood. "That took more administrative time than anybody anticipated."
Lauren Cone, an Independence resident, said she purchased hens as soon as her community legalized the birds. Caring for and cleaning after chickens has been easy, Cone said.
Of the Monmouth ordinance, Cone said a law that expires in two years could be hard on people because of the investment they make in birds and coops.
"I don't think it will be a problem there," she opined. "I think it's something that should be in Monmouth's future."
The Law
* Monmouth's proposed ordinance: Residents in single-family homes can keep up to five hens, with no roosters; the birds must be in fenced back- or sideyards; coops must be clean and free of odor; slaughtering hens and selling eggs and fertilizer is prohibited.
What They Said
About 350 people responded to a survey administered in the spring by the city on how they felt about legalizing backyard hens. Fifty-five percent said they wanted to keep chickens as pets. Seventy-five percent said they were OK with legalizing the birds.
Some of their comments:
* "This makes sense. Chickens are allowed in all surrounding cities. The conditions appear to address all concerns I have. I'm not sure if I will have chickens, but I want the choice."
* "We don't need something that attracts more rats, mice, raccoons, skunks and opossums to roam the city. There are already too many now."
* "I would like to see Monmouth be at least as progressive as other cities. Chickens are a lot less of an issue than dogs barking all day or leaving droppings when walked."
* "Doesn't Monmouth's ... city departments, including law enforcement, have enough to do already, amid declining revenues? This is just plain silly. Want chickens? Get a farm, for crying out loud."