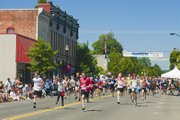 MONMOUTH/INDEPENDENCE -- By this point, the story is a local legend.
The fact that this is indeed an Olympic year -- with the U.S. Summer Olympic Trials in full swing just 75 miles away in Eugene -- is just a lucky coincidence.
"If I remember right, I think we had been drinking," longtime Monmouth resident, author and historian Scott McArthur said of the idea to host the 1976 Winter Olympic games in Monmouth-Independence, on a not-so-wintery July 4.
Former Monmouth firemen Dee Bridges and Don Milligan were in on the gag, and the trio -- calling themselves MOOCOW (Monmouth Olympic Organizing Committee of Winter) devised an actual proposal set with downhill ski races on grass, a cow-pie throwing contest and the main event, a 2.6-mile mini-marathon.
"We decided that a marathon was too long -- none of us could run that far -- so we decided to make it one-tenth of the distance," McArthur said.
And thus, a tradition was born.
While the other events of the first Winter Olympics in Monmouth have faded away, the Mini-Marathon -- which also markets itself as a fun run and walk -- has stuck around for its 40th anniversary this year.
The race is set to begin at 11:30 a.m. Wednesday, just prior to the Fourth of July Grand Parade.
Many changes have taken place in the race over the years, including its route -- from its former starting place at where Burgerville now stands -- and start time.
"We got the idea from the Lebanon Strawberry Festival - they have their race just before the start of the grand parade," said longtime Monmouth resident Al Oppliger, whose wife, Jayne, served as the chairwoman for eight years.
"It was traffic controlled, spectators were already there, lining the streets, so we moved it around 20 years ago."
The mostly downhill race now begins at Monmouth City Hall and finishes in front of the old Independence City Hall.
Since that time, participation has grown so much that for the first time, the race will be officially timed by an outside race management company, Eclectic Edge Racing.
"Last year, we had 458 runners total," said Terry Cable, who took over as race director nine years ago.
"I think part of the attraction is the great atmosphere of our festival, the parade preparation -- people are already out there in lawn chairs, watching.
"People like it because it's a quick little run, they can participate in it and still have time for other holiday activities. Just getting all that community support is really neat."
Registration is available beginning at 8:30 a.m. the day of the race, with a strict cutoff time of 10:30 a.m.
Preregistration -- available at Electicedgeracing.com -- is recommended to ensure a place in a race that has lived on, despite a polite "no thank you" from the Olympic Committee 40 years ago.
"We got a letter back that didn't make any sense," McArthur said with a chuckle. "That's all right though, we weren't expecting an answer anyway."
40TH ANNUAL MINI-MARATHON FUN RUN AND WALK
What:
2.6-mile road race through Monmouth and Independence.
When:
11:30 a.m. Wednesday, July 4, just prior to the start of the Grand Parade.
Where:
Start is in front of Monmouth City Hall on Main Street. Race follows parade route and finishes in front of old Independence City Hall on Monmouth Street.
Cost:
Adults: $12 preregistered, $20 day of race; Youth (10 and under): $5 and $10. Register online at eclecticedgeracing.com.
For more information:
Race Director Terry Cable, 503-930-2360 or 503-606-9681.
REMEMBER WHEN?
1973 marked the first year for the Mini-Marathon, an event that was part of the famed "Monmouth Winter Olympics," a tongue-in-cheek play for the 1976 Olympic bid. Other events included an organic Frisbee throw (with hardened cow pies), a raft race from Buena Vista to Independence and a rock skipping contest.
Here are the inaugural winners of the first Mini-Marathon:
Men's Open:
Mike Haglund of Monmouth.
Women's Open:
Alice Scoria of Monmouth.
Children 12-and-under:
Katie London of Monmouth.
Seniors:
Rev. Don Walster of Dallas.
More like this story