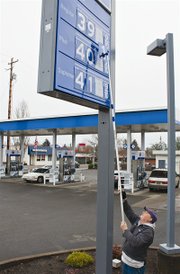 POLK COUNTY -- When Stuart Knight took ownership of the Dallas Chevron gas station 13 years ago, the price per gallon was $1.39.
Those days are long gone, but history is repeating itself as prices inch close to -- or exceed -- $4 per gallon in Polk County. Four years ago the nation watched as prices crept past $4 per gallon.
With the average price as of Tuesday morning at $3.72 nationally and $3.95 statewide, it looks like we are headed that way again.
In Dallas Tuesday, the average price was $3.96.
Knight recalls his customers' reaction in 2008 when prices rose above $4.
"I saw a lot of panic then," he said. "Now, they are resigned that it's a political year."
Coincidentally, 2008 was a presidential election year as well, but Knight points to another reason why prices are so high: speculation on the oil market.
Graphic by Pete Strong
Gas prices are as of 10 a.m. Tuesday.
With the global economy improving and development in India and China increasing demand for oil -- both factors in themselves are pushing prices up -- investors are betting on rising prices. Those investments add to the upward pressure on the cost per barrel of oil.
Marie Dodds, the spokeswoman for AAA of Oregon, said speculation due to increased demand isn't the only factor.
As of Tuesday, the price per barrel was about $105.
"The price has increased almost 9 percent in the last month," she said. "We have a lot of reasons for that."
Political unrest in North Africa -- the main factor in last year's spike in prices -- continues to have an impact, but now tensions with Iran and threats to oil exports from the region has become a bigger factor.
Regardless of the reasons, Knight's customers say they are feeling the pinch on their budgets and pressure to change their driving habits.
Will Nix of Independence said the rapid increase in prices was concerning him enough that he had to make a major change in his life.
"It's staggering," he said. "I purchased a new car because of it. I can't drive the hot rod anymore. The next step would be a motorcycle."
Al Yother of Falls City, owner of Al Yother Painting, said the increase has implications for his business.
"The increase will be passed onto the customer, just like everybody else," Yother said.
He added if the prices continue to rise, he believes it could stall the economic recovery.
Knight said many of his customers are commuters who have to drive to work regardless of the price of gas, but he has seen a decrease in people purchasing gas to go on recreational trips.
"Guys who used to go fishing once a week are just going once a month," he said. "Hunters are having a hard time. I don't see as many people on fixed incomes, either. They aren't really getting out."
Businesses, too, especially those in transportation and trucking fields, are watching prices rise with concern.
Leon Fischer is the president of Siletz Trucking in Independence, which hauls timber for private logging companies.
Siletz runs a fleet of 30 trucks. Fischer said the cost of diesel has increased 40 cents compared to the same time last year. With prices exceeding $4 per gallon for diesel, and each truck burning about 60 gallons per day, the daily fuel cost per truck is $250-$300. Siletz purchases fuel loads of 10,000 gallons, but rapid price fluctuation can have an impact.
Graphic by Pete Strong
Oregon's average gas price over the last year has remained steadily above the national average.
"I check gas prices daily -- and twice daily," Fischer said last week. "Today, diesel went up 6 cents per gallon; that means $600 more for a fuel load for us. But if it's 40 cents and we're burning 60 gallons a day per truck, that's a $24 increase. Multiply that by 30 trucks and that's a significant amount of money."
Fischer said that gas hikes haven't hurt his business per se because they charge fuel surcharges for customers.
Sometimes people don't want to pay that fuel surcharge and Siletz loses jobs because companies don't understand that prices fluctuate.
"The other trucking companies end up complaining when they get the bill at the end of the month," Fischer said.
Individuals and businesses may be affected in different ways, but all agree that the prices will continue their upward trend.
Knight leases from Truax Oil out of Albany. Almost everyday last week he got a call to set a new price. At one point in recent weeks, the price shot up 10 cents in one day.
With prices steadily climbing, the question remains, how high will it go?
In 2008, average prices in Oregon peaked at $4.29 a gallon in July 3, a record price for regular unleaded.
"We could get close to that," Dodds said. "The silver lining is that we will peak earlier."
Typically, gas prices would spike around Memorial Day, but this year, Dodds is projecting prices will peak in April.
She said national averages look to top out at $3.75 to $4.25.
"I don't think $5 will be an average in any state, but we could see in some cities prices that high," she said.
Thankfully, most Oregon stations likely won't be among those surpassing that milestone.
If national average predictions hold, Oregon's high prices could range from $4.25 to $4.45, perhaps making 2012 another record breaking year.
"Prices will stabilize or come down for the summer driving season," Dodds said. "But it will get worse before it gets better."