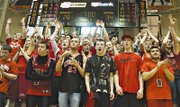 Monmouth center
to host fundraiser
Friends of the Monmouth Senior Center will hold their annual spring soup and pie sale Thursday from 11 a.m. to 1:30 p.m. at the center, 180 S. Warren St.
Homemade soups will include chicken noodle, vegetable beef, clam chowder and salmon corn chowder. Cost is a suggested donation of $3 for a large bowl. A variety of pies will also be available. Cost is $2 per slice or $8 for a whole pie.
Proceeds from the sale benefit the Friends of the Monmouth Senior Center.
For more information: 503-838-5678.
Heron Pointe sets
St. Patrick's event
The Heron Pointe senior living community is hosting a "St. Patrick's Day Celebration" Thursday at noon.
Lunch will be offered to the public. Cost is $5 per person (no cash; checks only).
Heron Pointe is located at 504 Gwinn St. E., Monmouth.
For more information: Kimberly Ficklin, 503-838-6850.
Master Gardeners
to meet Thursday
Dwarf conifers is the topic of discussion during the March meeting of the Polk County Master Gardeners on Thursday.
The meeting begins at 7 p.m. at Trinity Lutheran Church, 320 SE Fir Villa Road, Dallas.
Chris Steinke, a native Oregonian and plants man for Youngblood's Nursery, will bring his 40 favorite dwarf conifers for an evening of design ideas. He will talk about their use in special beds, rock gardens, containers and more.
For more information: Judy Hillman, 503-930-9755; e-mail to thegardenmole@comcast.net.
Dallas Seniors will
serve soup and pie
Dallas Area Seniors will host their annual St. Patrick's Day Soup and Pie Lunch on Friday from 11 a.m. to 2 p.m. at the Dallas Civic Center.
For $5 attendees get their choice of soup (clam chowder, split pea or taco), a slice of pie, and a beverage.
Everyone is welcome to attend. All proceeds from this event help support Dallas Senior Center activities.
The Dallas Civic Center is at 945 SE Jefferson St.
For more information: 503-623-8554.
Art exhibit opening
set Friday in Dallas
An exhibition featuring the work of painter and multi-media artist Jackey Raye Jones will take place from 6 to 9 p.m. on Friday at L'Attitude Restaurant, 904 Main St., Dallas.
Jones, a Falls City resident, began producing high-end, hand-painted silk clothing at her studio in 1985 and moved to faux finishes and painted furniture later in her career.
The show is free and includes appetizers and wine tasting.
For more information: 503-623-8861; www.jackeyraye.com.
IndePizza hosting
night of comedy
Comedy by the Slice, a night of professional comedy, is coming to IndePizza in downtown Independence Friday at 9 p.m.
The show, hosted by Will Woodruff, features Ron Funches, fresh off a recent appearance on the Conan O'Brien Show. Also scheduled to appear are Seth Milstein and Jake Frazier.
Tickets are $7 in advance and $10 at the door.
For more information: Will Woodruff, 503-881-3392; IndePizza, 503-838-4040.
Quilting exhibition
planned Saturday
Grandma's Attic, 167 SW Court St., Dallas, will host a book signing and quilting demonstration by local author and crafter Terrie Kygar on Saturday.
Kygar's book, "Creative Quilts From Your Crayon Box," is published by Washington-based Martingale Publishing and was released last month.
The event will take place from 1 to 5 p.m. and the public is welcome.
For more information: 503-623-0451.
Concert and dinner
will aid food bank
A concert and dinner benefiting Marion-Polk Food Share takes place Saturday beginning at 5 p.m. at the Independence Elks Lodge No. 1950, 289 S. Main St.
Admission to the concert is a bag of nonperishable food items. The concert features a variety of country, western bluegrass and gospel performers, including Nashville recording artist BobbiLynn Forbes, Goldfire, The Nu Tones and Elvis impersonator Joe Mendonca.
A country dinner will be served from 5 to 8 p.m. Cost is $10, $5 for children 12 and under.
Minors are welcome but must leave at 9 p.m. due to state law.
For more information or to RSVP: 503-302-3884; 838-1850; 503-838-1950.
St. Patrick's Church
slates fundraiser
St. Patrick's Catholic Church in Independence is holding its annual St. Patrick's Day Dinner and Auction Fundraiser on Saturday.
This annual event features a silent and live auction, Irish dinner of corned beef, cabbage, potatoes, soda bread/rolls and apple pie, and a live band with a sing-a-long and dancing.
Mass begins at 5 p.m. at the church, 1275 E. St., with the event following at 6 p.m. Tickets are pre-sale only and cost $20 per person. All are welcome.
For tickets and more information: 503-838-1242.
Weekend daffodil
festival scheduled
The 18th annual Amity Daffodil Festival is set for 10 a.m. to 4 p.m. Saturday and Sunday at Amity Elementary School, 300 Rice Lane.
Highlights of the two-day show include a judged daffodil show sponsored by the Oregon Daffodil Society; daffodil art created by students, amateurs and professionals; Volkswalks; a 10 a.m. to 3 p.m. buffet; a plant sale; and gardening and local history presentations.
The event is held rain or shine. Admission is free.
For more information: Karen Fanning, 503-835-2181 (ext. 287); Amity Elementary School, 503-835-3751 (Saturday and Sunday only).
Sunday luncheon
set at Buell Grange
Buell Grange No. 637 will host a luncheon from noon until 3 p.m. on Sunday at the historic hall in Sheridan.
The menu includes barbecue or hot pork sandwiches with two of the following sides: mashed potatoes and gravy, baked beans or coleslaw.
Cost is $7 and includes coffee or tea. The grange is located at 5790 Mill Creek Road, northwest of Dallas off Highway 22.
For more information: 503-831-1422.
Contributions being
sought for benefit
Donations are being accepted for a benefit community garage sale to be held March 30-31 at Central High School.
Anyone interested in selling used clothing, furniture, electronic items, collectibles or anything still in usable condition can contact event co-organizer Megan Marchand at 503-884-6606 or via e-mail to mmarchand143@rocketmail.com.
Marchand will coordinate pick-up through March 29. Otherwise, vendors may bring their items to the Central High cafeteria on the day of the garage sale.
All proceeds from the sale will go to the family of Mason Stokes, a Central High junior from Independence.
Stokes suffers from Morquio syndrome, a rare inherited disease of the body's metabolism that causes many serious health problems.
Stokes suffered a spinal stroke during surgery that has left him paralyzed. Money from the garage sale will help his family purchase a handicap-accessible van to help with transport.