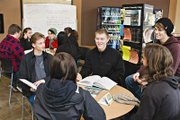 DALLAS -- What started as a small program offered as an answer to dwindling resources for vocational training has become one of Dallas High School's most popular -- and successful -- endeavors.
Now in its seventh year, the Dallas Extended Campus program is providing a growing number of students another option when beginning college.
The five-year program allows students to earn their high school diploma and attend a free year at Chemeketa Community College.
"The goal is to create a seamless transition from high school into college," said Brian Green, a Dallas High School assistant principal. "I think we have done that."
Madison Taylor, 19, is currently enrolled in Extended Campus and attending college full time. She's seeking a nursing degree and plans to transfer to Western Oregon University. She said, at first, it was her parents who wanted her to look into Extended Campus.
Graphic by Pete Strong
Students enrolled in Extended Campus
"After going to the meetings, I found out it's a good idea," she said Monday, the beginning of winter term finals week. "Every kid wants to go away for school, but I don't think they realize how much that costs their parents. We can get the same education here."
Ben Simpson, 19, also seeking a transfer to Western to study criminal justice, said Extended Campus was a no-brainer.
"It's free," he said. "You can't go wrong with a free year of college."
Since the program launched in the 2005-06 school year, 267 students have enrolled and 211, or 79 percent, have finished.
That success rate enabled the program to expand from being initially limited to 20 students to being potentially open to all.
Students wishing to enroll in Extended Campus have to attend all informational and introductory meetings and meet application deadlines. There is no minimum GPA requirement, but grades and attendance are taken into account when considering students for the program.
Dallas worked with Chemeketa and the Oregon Department of Education to create Extended Campus, which has students stay in high school for a fifth year while taking college courses. The district continues to receive state funding for those students, which is used to pay tuition, books and even transportation, if necessary.
Using the current per-credit tuition rate of $87, the program has paid for $722,535 in college classes since 2005-06.
"That is a huge benefit to the students in our community; even if they don't finish the program, they still are benefiting from it," Dallas Superintendent Christy Perry said.
Graphic by Pete Strong
Total Credits Taken by Year
Green also noted on average 27 percent of the students enrolled are the first in their family to attend college.
"That's a pretty impressive number," he said. "Many of them have said `I wouldn't be able to go to college if I didn't have this opportunity.'"
To prepare students for Chemeketa, Dallas offers a three-week introductory course in September.
Students taking five years to graduate does negatively affect the district's four-year graduation rate reported by the state. However, district officials feel the extra time needed to explain the program's impact on graduation rates is well worth the benefits of Extended Campus.
Reine Thomas, the dean of Chemeketa's Dallas Center where many of the students take classes, said the program offers a unique transition to college.
"It's a great platform for success," she said. "It's exciting to see the development of the students and the development of the program."
The program is a doorway to other opportunities, too. Those who earn a 3.5 GPA or higher can take a second year on the Chemeketa Scholars Program with tuition paid.
"For those who are four-year university bound, but don't have the money (to pay for college), this is cutting their debt at least in half," Perry said.
Green said so far this year student retention in the program is at its highest level. Interest shows no sign of slacking, with 63 students potentially looking at participating next year.
"I'm actually trying to talk my sister into it," Taylor said. "She graduates this year. I would encourage every student to look into it. It's a good program. I'm really thankful to have it."
Learn More
* Dallas High School is holding a mandatory Extended Campus meeting at 6:30 p.m. Thursday in Bollman Auditorium, 1250 SE Holman Ave. Students and parents are welcome.
For more information: Brian Green, DHS assistant principal, 503-623-8336.