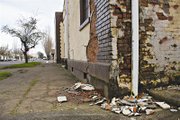 DALLAS -- Demolition on the old National Guard armory, former home to Dallas' 162nd Engineer Company, is moving forward.
The city of Dallas issued demolition permits Friday to Konell Construction & Demolition Corp. of Sandy. Deconstruction is slated to begin this week on the century-old building located at 817 SW Church St. in downtown Dallas.
The project has experienced a long delay.
Originally scheduled for fall 2011, the deconstruction was waiting on final approval of an agreement between the Oregon State Historic Preservation Office -- which was consulted on the project -- the Oregon Military Department (OMD) and the National Guard.
Roy Swafford, OMD's installations division operations chief, said the contract for the job had been awarded in September, but the contractor had to wait until last week to move forward.
Not a typical demolition, crews will be salvaging material from the building as it's torn down.
A small piece of the flooring in the old drill hall has already been removed and will be inset into the floor of the new Col. James Nesmith Readiness Center going up just outside Dallas on Westview Drive off Highway 223.
More timbers will be removed and milled again to make conference tables and other furniture for the new center. An additional 17,000 linear feet of boards will be salvaged and stored for future OMD projects.
"We want to take that 100-year-old timber and reuse it," Swafford said. "That's some timber that we would really hate to see it go to waste."
Swafford said with demolition permits in hand, activity on the site this week is likely. The entire project could take a little more than a month.
"It's sad to see it go," Swafford said. "Unfortunately, with the condition of that building, there is no other economically viable option."
Swafford said he hopes some of the sadness related to the old armory demolition will be soothed by the completion of a new readiness center, set to be finished this summer.
The public should get a firsthand look at the completed facility during an open house tentatively scheduled for the fall.
"It will be a beautiful building," he said.