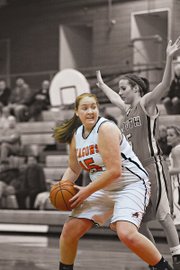 ITEMIZER-OBSERVER GIRLS BASKETBALL PLAYER OF THE YEAR
DALLAS -- Off the court, it's hard to imagine Jessica Mitchell getting into a shouting match with anyone.
The Dallas High junior, usually reserved and quiet when it comes to interviews, keeps her answers short. She would much rather talk about anyone else but herself, if possible.
"I've always been a lead-by-your-actions kind of girl," Mitchell said of her past form of leadership.
That all had to change this season with a young Dragons girls basketball team lacking in experience.
"But having so few people return to the program, it was hard to get everyone mentally checked in and focused in every game, so I just had to be vocal," she said.
"It just kind of happened."
Mitchell's vast improvement in leadership -- both vocally and on the court -- is the main reason she has been selected as the Itemizer-Observer's 2011-12 Polk County Player of the Year for high school girls basketball.
A 5-foot-11 forward, Mitchell averaged 11.3 points and 7.1 rebounds per game for the Dragons, both team bests. The three-year varsity player and all-Mid-Willamette Conference selection -- she earned honorable mention this season -- added 1.1 assists and 1.2 steals per contest, mostly fighting double -- and sometimes triple -- coverage from opposing defenses.
Yet, it was what perhaps didn't show up in the stat sheet that Dallas coach Dave Brautigam said was Mitchell's biggest attribute.
"One of the things she developed this year was she started to be more vocal and take on that responsibility," he said. "She got fired up when she needed to and that got the other kids fired up on our team. I was proud of the kids because we battled in a lot of games and we had a lot of opportunities to win, and I think that was because of Jessica and her personality."
Brautigam added that while Mitchell might have "chewed" a few people out from time to time, she did it while making sure she was doing things the right way.
"I think she's realized that if you're going to take on that role, you have to hold yourself accountable -- and she's done that."
Mitchell said her own drive to continue to work hard despite adversity -- the Dragons won just seven games while competing in a tough MWC -- comes from not only her personal goal to play basketball in college, but also a team-powered, greater good.
"Part of it is it's not just me, it's not an individual sport," Mitchell said. "It's a team sport, so if I let myself down, I let the whole team down, and it costs the whole program."
Although Mitchell plays the forward position, another asset she gives the Dragons is her ability to know where all five positions are supposed to be on any given play.
"She's a type of kid that knows where the point guard's supposed to be or where the shooter is supposed to end up on a play," Brautigam said. "From a coach's standpoint, that's great to have -- she's that other coach on the floor.
"When you're done in the huddle and the kids are walking back onto the floor, she can give that little bit of advice and continue to give that to other players."
Mitchell knows her job isn't done yet.
With one more season left in her prep career, she's hoping for bigger things -- both for herself and her teammates.
"I've always wanted to play basketball in college, so I'm just trying to do that and prove to people and prove to myself that I'm good enough to do that," she said.
Brautigam wants more, too.
"I think we were all sort of disappointed," he said of the season. "But I think we have an extremely motivated team -- I think we're going to get after it next year.
"I want Jessica to go out on a good note."
Note:
The I-O all-Polk County Girls Basketball Team was selected by Nicole Watkins, along with input from area coaches.