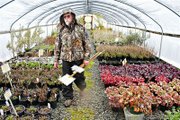 POLK COUNTY -- On the morning of March 21's unusually late winter storm, workers at Daryll's Nursery hurriedly moved perennials and flowering shrubs indoors to keep accumulating snow from weighing down branches.
Other varieties that had been sitting in greenhouses too long were moved outside, to avoid early blooms.
Owner Daryll Combs would have opened on March 19, except for snow. He pushed back that date another two days, just as the heaviest amounts of snow were to fall.
Combs' assessment of the weather the first week of spring was a blunt one.
Photo by Pete Strong
John Young places tags on flowering cherry trees at Daryll's Nursery March 21.
"It sucks having the snow," he said. "We're getting ready to open and it's a mess."
Farmers are typically knee-deep in spring planting and groundwork by mid-March. Not this month, which has been wet and seen measurable snowfall in the Willamette Valley almost weekly, depending on your elevation.
That was capped by last week's storm that dumped between 3 and 6 inches around low-lying parts of Polk County. March 22 ranked as one of the latest snowfalls in Salem's history, according to the National Weather Service.
"In 33 years here, I don't recall any snow this late in March," said Gene Pirelli, an Oregon State University Extension Service agent. Between the rain and snow this month, "there have been few opportunities to get late winter and early spring work done."
That's been the case for grass seed and grain farmers like Kathy Hadley of Rickreall.
"We should be out fertilizing right now and we can't," Hadley said. "For wheat, we should be putting on fungicide and products to kill weeds.
"(With) forage crops we're not behind, but with spring grains we definitely would liked to have had those in the ground by now," she said.
Workers at Platt's Oak Hill Dairy in the Buena Vista area ignored blowing snow as they fed calves housed in outdoor hutches. Manager Daryl Eash was anxiously awaiting the arrival of milk trucks, running late because of the snow and ice on the road.
Photo by Pete Strong
Miguel Ramirez ferries milk bottles from a motorized cart to calf hutches at Platt's Oak Hill Dairy near Buena Vista March 21 amidst snow flurries.
"We haven't had to dump milk yet," Eash said. "But we have in the past when it snows."
Dairy and beef cattle ranchers need relatively dry periods before cows can be turned out to pasture. The longer it takes, the more hay and feed, which aren't as cheap, are consumed, Pirelli said.
"Last year was our latest turnout date in 21 years on the farm," said Jon Bansen, owner of Double J Jerseys near Pedee. "That was March 31.
"We may beat that date this year unless we get a quick turnaround in the weather pattern," he said.
While the weather is a nuisance, it's not a major cause of concern -- yet -- Pirelli said. Row crop growers, for example, still have time to get their spring vegetables in.
"If we had four or five days of good weather in a row, we could play catch-up pretty fast," Pirelli said.
And a bright spot -- especially for those who irrigate their crops -- is the water supply.
Andy Bryant, senior hydrologist with the National Weather Service's Portland office, said wet conditions this month have increased projected levels in Northwest Oregon basins by 10 to 15 percent.