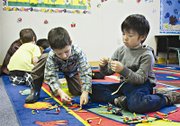 MONMOUTH -- Elena Inoyu did her first foreign exchange visit to Monmouth's Mid-Valley Christian Academy three years ago.
Inoyu, who lives in the city of Kanagawa on the west coast of Japan, was in kindergarten then. Inoyu said some things were as she remembered before -- like the kids she befriended previously.
"But math ... it's much harder now," the 10-year-old said as she described her long-division assignments. "It's so hard!"
For two weeks earlier this month, MVCA students shared their classrooms with Inoyu and five other visiting youths from Japan.
Elena Inoyu
The children from Hayama International School in Kanagawa were more than just casual observers, working and playing alongside their American peers.
Emily Tanaka, 12, took part in helping fifth- and sixth-graders in Joy Anni's class write a play they'll be performing next month.
Nokia Higurashi, 7, played games and drew pictures with others in Trisha Mack's kindergarten classroom.
"He's a good dinosaur drawer," exclaimed student Logan Skipper.
Leonard Hackett, MVCA director, said the relationship with Hayama International School developed four years ago, when a previous administrator started looking into foreign exchange opportunities.
MVCA has had students from Japan three times since then, with a Sheridan family handling the hosting duties. The last two visits to MVCA have included elementary-age children.
"It's an interesting decision, sending a 5-year-old to another country," Hackett said. "But it's a good experience for them and our kids are forming friendships that could last a lifetime."
While the religious academy has just more than 100 students in grades K-12, the school's goal is to make its educational experience as comprehensive as possible, Hackett said.
"We do hope that now that we're accredited, that we'll be working with other foreign exchange programs," Hackett said. "We'll now have the ability to more easily secure visas so that students who need them can attend here."
Inoyu's school back in Kanagawa is an international school where English is primarily spoken. Getting better at the language was her reason for coming here, she said.
"If you come to America and can't speak English, it's kind of hard," she said.
"I want to come back when I'm older because it's fun," she added. "I might come back later this year."