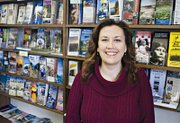 MONMOUTH/INDEPENDENCE -- The Monmouth-Independence Chamber of Commerce has its new manager.
Jean Love of Independence was hired last week and will start with the organization on Sunday
. The previous manager, Marilyn Morton, resigned earlier this month.
Love worked as an administrator between 2007 and 2011 for the community and commerce division of the city of Charlotte, N.C. She relocated from the South last year.
"The chamber has come a long way from where it was a couple of years ago, and one of my goals is to make sure we maintain and increase membership," Love said. "The chamber has a vision and I want to help fulfill that."
The chamber received 19 applications for the manager job since February, said Bill Foster, chamber president.
"Marilyn did a really good job for us and we wanted somebody who could understand the workings of what it takes to make the chamber even better," Foster said. "I think Jean will be able to grasp what Monmouth-Independence is and promote that to visitors."
The position is now full time, as opposed to half time or three-quarters time as it has been in recent years.
"We were working toward that goal," Foster said. "To make the chamber function the way it needs to, the manager needs to be full time."
Love, a native of Kannapolis, N.C., spent almost a decade as a teacher in middle and high schools in North Carolina and South Carolina. She later managed a federal grant for the Cumberland County School District in Fayetteville, N.C.
In Charlotte, she was a community development specialist who coordinated and marketed a training program for businesses, neighborhoods and nonprofit organizations.
She also oversaw a citywide neighborhood awards program, helped plan an annual major informational symposium for citizens and business owners, and helped administer a grant program.
Love is married to Tommy Love, director of giving at Western Oregon University. Love is also a member of the M-I Chamber board of directors.
Meet Jean ...
Name:
Jean Love.
Age:
39.
Hometown:
Kannapolis, N.C.
Previous employment:
school teacher; grant project manager; community development specialist in Charlotte, N.C.
New role:
Director, Monmouth-Independence Chamber of Commerce.