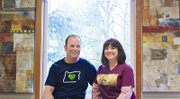 INDEPENDENCE -- Husband-and-wife artists John Kime and Tamara Angeney-Kime share a life, a home, pets ... and a studio split down the middle.
John's mixed-media and expressionist paintings adorn one half of the room, Tamara's impressionist and more representational work, on the other.
The rest of their home, meanwhile, is a constantly evolving art gallery filled with their paintings, those of friends or admired peers. Redecorating isn't a problem; John coordinated exhibitions for years.
Photo by Pete Strong
John's art style leans toward abstract expressionism -- "an attempt to bridge the gap between painting and sculpture."
Despite their contrast of styles, they often work side by side. You would think those sunrise-to-sunset days in front of a canvas would be a recipe for conflict between artists.
About the only real rift comes from music choice, John said.
He listens to punk rock and ska, not unexpected for somebody painting quickly with big, expressive brush strokes. Tamara's playlist is pop and jazz -- anything to keep her focused on the details within a landscape piece.
"Either I have headphones on or she's willing to put up with my music," he said.
"And sometimes, it's silence," she added. "Those days can be good, too ... when we're lost in our painting."
You could say art is their lives. For many years, the couple has been heavily involved in the business side of the institution, marketing artists and handling sales and distribution to galleries and high-end home furnishing outlets.
Photo by Pete Strong
Tamara's subject matter is "all over the place," but some landscapes rooted in realism can take on an abstract edge.
They've also been creating on their own, with original paintings hanging in private collections and fine art galleries in Dallas, Texas, Minneapolis, Los Angeles and other locales across the United States.
The two work day jobs currently -- the economy hasn't been kind to artists, John said. They're trying to break free of that through their own enterprise, Kime Fine Art, selling and distributing their own paintings to the public and hosting their own showings.
"It's great going from a blank canvas to a finished piece," John said. "Our goal isn't to be famous or rich, just to paint and enjoy life."
The pair has lived in Independence since 2006, transplants from John's hometown of Phoenix, Ariz. John worked for the Phoenix Art Group, coordinating exhibitions and designing displays nationally and abroad for 10 years.
He started The Kime Collection, an art distributor, in the mid-1990s, partly out of resolve to concentrate on his own work. He mainly does abstract expressionism, with images built up from layering paint -- "an attempt to bridge the gap between painting and sculpture."
Tamara, a Missouri native, met John while working in Phoenix -- she was a sales representative for the same atelier. An art major in college, Tamara returned to painting full time when they married in 1999.
Photo by Pete Strong
Tamara reloads a brush while working on a nearly-finished portrait of two dogs. She's recently started painting pet commissions.
Tamara said her subject matter is "all over the place," though a major focus is landscapes, some with an abstract edge.
"One thing about painting, it can be an isolating profession," she said. "The act of painting, you're usually painting alone.
"John and I have learned about each others' styles," she continued.
Through The Kime Collection, the pair was marketing 15 different artists and designing art for corporate and residential buyers. Sometimes, the two collaborated on posters with one another.
The recession hit about two years after they relocated to Independence. And the market for framed posters and prints began to "fizzle," John said.
"In 2008, we pulled back our inventory and because people stopped paying," he said. "You think about all of the retailers that used to have huge selections of framed prints ... now it's maybe half an aisle."
"Art can be a risky endeavor," Tamara added. "Normally, you don't find both people (in a couple) doing it."
This one does. The Kimes started Kime Fine Art in 2010 and are now concentrating on their own work, marketing directly to the public and hosting shows in their home.
"I think it's easier for me to sell Tamara's art and for her to sell mine," John said with a laugh.
Both have their own projects. One of John's is an abstract series of beach paintings; Tamara has started doing commissions of people's pets.
Tamara also plans to open a working studio and teach classes near the corner of Independence Highway and Polk Street in June.
Painting together in the home studio won't change, she said.
"The other parts of the house, some of those are trouble," Tamara added with a laugh. "I have trouble keeping control of the kitchen, he's starting to encroach there."
Learn More
* For more information on Kime Fine Art, call 602-684-2555 (Tamara) or 602-923-6065 (John). You can also check out Kime Fine Art's page on Facebook.
* A home studio exhibition and sale of unframed art is scheduled Saturday, May 5, from 2 to 7 p.m. at 81 S. Ninth St., Independence.