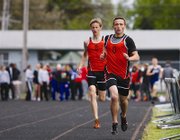 DALLAS -- Alex Bird and Clay Stuhr stuck with each other for most of the 1,500 meters in a Mid-Willamette Conference dual meet with Lebanon April 25.
As they neared the final turn, however, Stuhr, who took the lead early, pulled away for an easy victory.
"I'm more like a 5K, 10K runner," Bird explained shortly after the race.
Stuhr added quickly: "If we ever got into a marathon, he'd kick my butt."
The two -- Bird a senior and Stuhr a junior -- have been training partners in both track and cross-country since Stuhr was a freshman.
While Stuhr may have the upper hand on the track -- he's ranked fourth in the MWC in the 1,500 (4:22.60) and third in the 3,000 (9:13.62) -- Bird, who prefers the cross-country course, is not far behind.
Bird, who went to his first Class 5A state meet last fall in cross-country (he finished fourth at districts), is ranked eighth in the 1,500 (4:25.90) and fifth in the 3,000 (9:25.38).
One thing is clear between the two, who are also good friends: they motivate one another.
"It's challenging," Bird, who has yet to beat Stuhr this season, said. "He really pushes me harder than I could ever think I could run.
"It's just great to have someone right by you the whole time to really push you and motivate you."
The competition doesn't just limit itself to meet day, either.
"Practices, too," Stuhr added. "Practice is always challenging with him and it makes us better."
Both are being counted on to be key scorers for the Dallas boys squad, which fell to Lebanon, 92-53, in a shorthanded effort last week.
"They're pretty close friends and it's kind of like the (sprint competition between) Mona (Middeldorf) and Hannah (Smith) thing on the girls side," Dallas track and field coach Bill Masei said.
"Clay and Alex push each other. One might have a good day, the other a bad day, or they'll both have a good day. They pretty much feed off each other and we count on one of the two, if not both of them, to show up big for us on the boys' side."
Both tab the 3,000 as their best race, but time will tell which races each will run come district time.
For now, their goals are clear.
"Mainly, just to stick with this kid as best I can," Bird said with a laugh, referring to Stuhr. "But if I can place somewhere in the top five in districts in the 3,000, I'd be happy."
Stuhr, who finished fifth in the 3,000 at the Class 5A state meet last year, wants to improve upon that mark.
"I'm looking forward to that again, but I'm also looking forward to a lot of competition," he said
Ben Rebischke (shot put) was the only other first-place finisher in the April 25 dual.
STUHR TOPS IN CENTENNIAL
: Stuhr ran a season-best time of 9:13.62 in the 3,000 to place 24th in Saturday's Centennial Invitational in Gresham. Bird wasn't far behind, placing 32nd (9:25.38). Josh Christenson took 25th in the 300 hurdles (43.89) and Rebischke was 32nd in the shot put (41 feet, 1.75 inches).
DALLAS BOYS TRACK AND FIELD
MWC RANKINGS
(Dragons in top 4)
100 --
3, Gabe Rodriguez, 11.34 seconds.
1,500 --
4, Clay Stuhr, 4:22.60.
3,000 --
3, Stuhr, 9:13.62.
300 hurdles --
4, Josh Christenson, 43.24.
Shot put --
4, Ben Rebischke, 41 feet, 9 inches.
Pole vault --
tie-3. Cody Schiedler, 12-0.
Long jump --
1, Rodriguez, 21-11« inches.
Triple jump --
3, Rodriguez, 41-7.