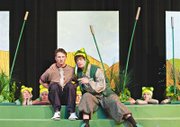 INDEPENDENCE -- Director and teacher Jeff Witt decided to extend Central High's theater season by one more show after some last-minute encouragement from students not ready for a final curtain call in 2012.
"Honk!" seemed perfect because it wouldn't require lavish production. Aimed at elementary school students, it also wouldn't be overly heavy handed, he said.
Still, this musical take on Hans Christian Andersen's "The Ugly Duckling" has poignancy with its subject matter of tolerance -- especially with the high profile of anti-bullying campaigns in recent years.
"That played into my choice," Witt said. "It's OK to be yourself ... in the play, everybody ends up being the same at the end."
Central High will present its version of the musical "Honk!" beginning Wednesday (today) and continuing through Saturday.
The cast of 34 includes 15 students from Talmadge Middle School and even a few local elementary-age children.
"It's just cute," Witt said. "It's an accessible story that everybody knows."
"Honk!" was created by Anthony Drewe and George Stiles and debuted in England in 1993. In it, "Ugly" is hatched from the last of his mother's clutch of eggs and realizes he's different from the other ducklings.
Ugly gets lost, spends a year searching for his family, runs afoul of other barnyard creatures, and almost becomes dinner before learning that he's actually a swan.
Witt said he had intended this to be a traveling show for area elementary schools. As such, most of the sets are on a minimal scale. Instead of full-blown animal costumes, outfits are suggested, with duck caps and shirts.
The play has plenty of music, however, with numbers ranging from pop and folk to Broadway duets such as "The Joy of Motherhood," sang by Karina Ledesma, who portrays Ugly's mother, Ida.
Photo by Pete Strong
Ugly's mother Ida (center), played by Karina Ledesma, is reunited with her son after his year of wandering as a group of swans look on.
Ledesma, a Central High graduating senior, said the play has been a bittersweet experience. It's her last production. The final full week of rehearsal also coincided with the state choral competition; Ledesma and other cast members are part of Central's choir.
"I'm glad we did the play," she said. "These last few weeks as a senior have been stressful ... but when you're on stage, it makes the days a little better."
Witt said he doesn't normally have younger students play prominent parts of his high school productions. There was enough talent for middle school students to take on leads this year, he said.
Connor Layton, a seventh-grader who plays Ugly's father, Drake, said this is the first time in front of a large audience for many of his peers. It wasn't as nerve-racking for him; he was a coachman in CHS's "Cinderella" in February.
"It's a great experience, because I can learn from the older actors," he said.
The message of "Honk!" is a good one for kids, he said.
"It's independence," he said. "You don't have to be exactly like everybody else."
On Stage
What:
Central High School's theater program presents "Honk!"
When:
Wednesday through Saturday, with performances at 7:30 p.m. There is also a 2 p.m. matinee show on Saturday.
Where:
Central High School auditorium, 1530 Monmouth St., Independence.
Cast members include:
Lucas Fife as Ugly; Karina Ledesma as Ida; Connor Layton as Drake; and Grace Peets
as the Cat.
Admission:
Tickets are $5. Students pay $3 on Wednesday, "Student Night." Tickets can be purchased at the door or by calling 503-838-0480.