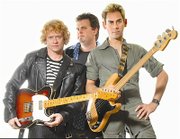 INDEPENDENCE -- Break out the blankets and lawn chairs. The entertainment lineup for Independence's River's Edge Summer Series has been announced.
Among the notable shows happening in the coming months is a special Q-and-A and storytelling session with Sig Hansen, captain of the Northwestern fishing vessel and one of the stars of the Discovery Channel's hit reality show, "Deadliest Catch."
On Aug. 10, The Police Experience, billed as the world's pre-eminent Police tribute band, will perform.
"I think we've got some great music, the events will have energy and be interactive," said Alex Trevino, coordinator for the Riverview Park Amphitheater. "I think this will bring people not just from our community, but from the outlying cities, too."
An unveiling of the schedule at the park plaza on Monday included live music and a juggling routine by Chris Corrado, a veteran street performer who has entertained during professional sporting events. Corrado is one of several opening acts for concerts this summer.
City leaders and business owners re-evaluated the summer series last fall, opining that the amphitheater was underutilized and that the program needed to grow. A goal was to stage at least two ticketed shows with more widely-known performers, said Shawn Irvine, Independence's economic development director.
Trevino, owner of Rookies Sports Pub in Monmouth and of Trevino Enterprises, was hired as the facility's coordinator.
Trevino said he's spent the last six months working with booking agents to find musicians with followings, hunting for sponsorships and restructuring elements of the series.
For example, during outdoor movie nights, a rotating lineup of stand-up comedians will act as emcees and there will be theme nights. The films themselves will be aimed at an audience beyond young children, he said.
With the Sig Hansen event, "we want to do a huge Dungeness crab feed and do the show in the evening," he said.
The scope of the series has grown and so has the budget -- at nearly $60,000, it's more than double what it's been in the past.
That sum includes $15,000 from the city of Independence, sponsorships from more than a dozen local businesses and Trevino's own money.
Trevino had hoped to attract large corporate sponsors for the series, but noted many he contacted had already set budgets for the current year before he was hired.
Still, Capital Auto Group in Salem, Les Schwab Tire Centers and Widmer Bros. are footing some of the bill for the Hot Wheels Classic Car Show and concert on July 1.
A key addition to River's Edge is the Independence Fiesta Mexicana, a September event traditionally organized by an ad-hoc committee of community members.
"They've put those together a week or so before the actual fiesta, but still get a great turnout, rain or shine," Trevino said. "We're keeping the same celebration format, but we've got a major sponsor for it, US Bank, and there will be more money for entertainment."
While the lineup is set, the marketing is just getting started. Trevino said he'll seek to spread the word through radio, newspapers and tourism groups such as Travel Salem.
"Our first event is in July," he said. "We'll have to kick this into another gear now."
That's Entertainment!
Events scheduled at the Riverview Park Amphitheater in downtown Independence as part of the 2012 River's Edge Summer Series. Admission is free, unless noted.
CONCERTS/SPECIAL EVENTS
July 1 -- Hot Wheels Classic Car Show
July 13 -- Ants in the Kitchen, Portland, R&B and Soul
July 20 -- Radical Revolution, Portland, 80s music
July 21 -- An Evening with Sig Hansen of the "Deadliest Catch" (tickets are $15 to $30)
July 27 -- "Hawaiian Night," with the Jam Koral Band, Portland, reggae
Aug. 3 -- Lock, Stock and Barrel, Vancouver, Wash., country/rock
Aug. 10 -- The Police Experience, 80s rock (ticketed show, prices to be announced)
Aug. 17 -- Duffy Bishop, Portland, jazz
Aug. 24 -- Blind Driver, Salem, honky tonk/blues
Aug. 31 -- Fiesta Mexicana
MOVIES
July 12 -- "Super 8"
July 19 -- "Puss in Boots"
July 26 -- "Footloose" (2011)
Aug. 2 -- "Star Trek" (2009)
Aug. 9 -- "Soul Surfer"
Aug. 16 -- "Cars 2"
Aug. 23 -- "Sherlock Holmes" (2009)
Aug. 30 -- "Transformers"