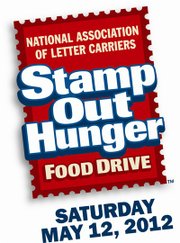 POLK COUNTY -- Letter carriers in Polk County will join counterparts nationwide for the 20th Stamp Out Hunger food drive on Saturday.
Local letter carriers, who will become both mail and food handlers on this day, are asking residents to join them in the National Association of Letter Carriers Food Drive.
Residents are encouraged to leave a bag containing non-perishable foods, such as canned soup, canned vegetables, pasta, rice or cereal, next to their mailbox prior to the time of regular mail delivery on Saturday. Local letter carriers will collect these food donations as they deliver the mail.
"This one-day drive goes a long way to augment emergency food supplies," said Marion-Polk Food Share President Ron Hays.
All food stays in the community where it's collected.
Last year, the letter carriers drive generated 107,228 pounds of food for the Marion-Polk Food Share network, including: Dallas Emergency Food Inc., 8,630 pounds; Ella Curran Food Bank in Independence, 4,705 pounds; and Marion-Polk Food Share, 77,747 pounds.
For more information: Dallas Post Office, 503-831-0050; Falls City Post Office, 503-787-3648; Independence Post Office, 503-838-5207; Monmouth Post Office, 503-838-4719; Rickreall Post Office, 503-623-5702.