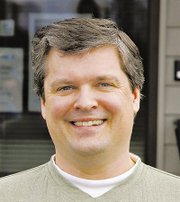 INDEPENDENCE -- The Monmouth-Independence Network (MINET) Board announced Tuesday morning that General Manager Phil Garrett has left the organization.
Board President David Clyne said MINET and Garrett had reached a separation agreement.
The board released a brief statement Tuesday regarding Garrett's departure from MINET.
"MINET regrets to announce that Director Phil Garrett will be leaving MINET," the statement read. "MINET wishes to extend thanks and appreciation for all the efforts provided by Mr. Garrett throughout his tenure with MINET."
Clyne said the terms of the agreement, including any compensation that may be paid to Garrett, was confidential.
Garrett was placed on administrative leave in February, pending the outcome of an operational review requested by the board. The review was performed by Salem-based Local Government Personnel Institute (LGPI) and was completed in March.
Garrett was hired as MINET general manager in January 2005.
Ross Schultz will continue to serve as interim general manager on a part-time basis until the position is filled permanently, Clyne said.
"Staff appear pretty comfortable with him," Clyne said. "He's picked it up pretty quickly."
A call to Garrett's attorney, Jack Hoffman, for comment Tuesday morning was not returned before press time.
Hoffman said last week he was negotiating with MINET regarding Garrett's relationship with the organization.
"We are in the middle of a discussion that I hope will be fruitful," said Hoffman, who declined further comment.