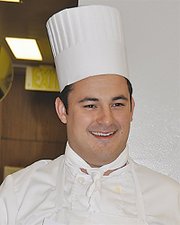 INDEPENDENCE -- Seth Baker says when he arrives home from a long day's work as a line chef at Spring Hill Country Club's restaurant in Albany, he needs to "de-stress."
Ironically, it means heading to the kitchen.
"I love trying to make new dishes, experimenting," he said. "I have my own small grinding attachment ... lately, I've been developing different kinds of sausage."
The 25-year-old from Independence recently parlayed his passion for cooking into victory at the "Copper Chef" competition of Linn-Benton Community College's Culinary Arts program.
Barker won the "Iron Chef"-style contest for his steamed clams with Madeira wine, onion, garlic and bacon confit. He also prepared an oven-fried salmon with red potatoes, roasted vegetables and red wine and butter sauce.
John Jarschke, an LBCC culinary arts instructor, said an off-campus panel judged the food on presentation, flavor, texture and degree of difficulty.
"I didn't get to taste it," he said. "But Seth seemed cool and collected while competing."
For his efforts, Baker took home a copper Fondue pot, a jar of duck fat cooking oil, and a cookbook on sauces.
LBCC's culinary arts program is a cooperative endeavor with Oregon State University and arguably the most well-respected in the mid-Willamette Valley.
The "Copper Chef" contest was created eight years ago and is another version of the "black box" challenge often used for restaurant interviews or competitions, Jarschke said.
Participants are given certain ingredients and must determine how best to prepare them under a time limit, he said.
This year's ingredients included salmon, clams, mussels, potatoes, hazelnuts and artichokes. Competitors could also use nonperishable ingredients, such as canned goods and wine.
"There was a carton of chocolate milk in there, too," Jarschke said. "Most of the students just drank that."
Baker, who grew up just outside West Salem, said he was 12 when he cooked his first family dinner - chicken cordon bleu.
A fan of shows such as Food Network's "Chopped!," Baker said he often watches while envisioning what he would do in a contestant's shoes. The key is considering how the ingredients work together and the flavors they might produce in certain groupings, he said.
"The longer you've cooked, the easier it gets," he said. "You know what the ingredients will make together and how they'll play off one another."
Baker, who's also a pilot, had been working for his father's windshield repair business before getting a job at Spring Hill, then enrolling at LBCC. He'll graduate from the school's two-year culinary program in June.
"Ideally, I would like to own my own restaurant some day," he said. "That's what I'm building toward."
Baker was a "Copper Chef" participant last year. The chicken piccata he prepared then won some rave reviews, "but it wasn't the best dish that day.
"I was happy to see salmon and clams this time," he said. "I made this dish once before in a cooking with wine class ... so I was comfortable with it."