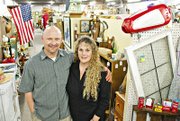 INDEPENDENCE -- Philip Hyre used to visit his antique collector aunt in Orange County
, Calif., three or four times a year when he was a child. Her house resembled a "3,000-square-foot museum," he said.
Sometimes, she'd lend him a pair of gloves and he would help her restore or re-stain a piece of furniture. He "caught the bug" for old things that way, Hyre said.
"Before I was 10, I might have looked at it and thought it was all just junk," he said. "And then I started appreciating it.
"I thought junk was cool."
His affinity for objects old, hard-to-find or just plain interesting hasn't waned. Evidence of that sits in the nooks and crannies of the Second St.
Mall, which he co-owns with his wife, Tara.
An adamantine mantle clock from the 1880s sits behind one case, not far from an even older Victorian vanity. A random assortment of sales on one recent day included a 1970s air rifle, a vintage rocking chair and a beer goblet.
There's urgency with some antique shoppers because it's hard to find two old things of the same kind, Hyre said.
"There's a saying in our business: `I should have bought it when I saw it,'" he said.
Philip and Tara Hyre took over the Second St.
Mall in 2010. The family had relocated from Ukiah, Calif., the year before.
Antiques have been a hobby for Philip, but he had never sought it out as a way to make a living. During the last 20 years, Hyre has worked as a truck driver, a contractor, a tank recovery specialist with the Army National Guard and a municipal lineman.
"Kind of manly jobs," he said. "You would think I would get more comments about why" he sells antiques.
A chance conversation with the previous owners of the 6,500-square-foot antique mall -- perhaps the largest retailer in the downtown Independence area -- ended with
the couple buying the business two years ago.
The Hyres upped the ante. Second St. isn't a shop per se, but a contingent of individual dealers renting booth space. Philip Hyre said they started with 18 vendors and are now up to 50 from across the Willamette Valley. Inventory, meanwhile, has quadrupled in size, he said.
Photo by Pete Strong
Items for sale range from clocks and fine china to motorcycle memorabilia.
"We probably have hundreds of thousands of items," Hyre said.
The couple modernized what had been a mostly pen-and-paper inventory system. All gifts are tagged and scanned at the time of sale so dealers can view online to see what's been sold. Philip Hyre is also a partner in an estate sales business.
The antiques industry is benefiting from the push for recycling and sustainability, Hyre said. Many people are now buying furniture or old housewares to use instead of just displaying it, he said.
Still, there's no shortage of collectors. Shellye Hodges-French of South Salem is one of Hyre's dealers, "a generalist," who sells everything from vintage printing blocks to antique dolls to a turn-of-the-20th century oak organ.
Hodges-French said it's a business, but she loves finding, bidding on and buying items -- "the search."
"If we don't sell the organ, it will go home with me," she said. "I think a lot of dealers do that."
Customer wish lists have been a fun part of the job, Hyre said.
He has one regular who's a strict collector of presidential memorabilia -- that guy gets a phone call anytime Hyre has anything related to the commander-in-chief in stock.
Hyre recalled another patron seeking items related to Jack the Ripper; he went home with antique scalpels and glass syringes.
"That request always sticks out to me," Hyre said. "It was really unusual, but we met it."
Hyre collects old telephone pole insulator caps. Two of his three daughters have followed his footsteps.
"My 8-year-old has an extensive horse collection ... and my 10-year-old collects turtles," he said. "We go antiquing and `junking,' they come across one of those and they're all over it."
Check It Out
* Second St. Mall is located at 281 S. Second St. in Independence. Operating hours are 10 a.m. to 5 p.m. Monday through Saturday and noon to 4 p.m. on Sundays. For more information: 503-838-1788 or online at www.secondstmall.com or on Facebook.