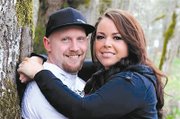 Bouvia-Lofton
Jacqueline Bouvia of Keizer and Andrew Lofton of Keizer are planning an August wedding.
The bride-to-be is the daughter of Chris Bouvia of Salem and Kim Bouvia of Keizer. Her fiance is the son of John and Sharon Lofton of Monmouth.
Jacqueline, a 2006 graduate of McNary High School in Keizer, attended Oregon State University. She is currently an insurance agent for AAA Oregon/Idaho in Portland.
Andrew, a 2002 graduate of Dallas High School, graduated from WyoTech in Laramie, Wyo., in 2011 with an associate degree in diesel mechanics and business management. He is employed as a diesel technician at Blue Line Trucking in Portland.
The wedding is set for Saturday, Aug. 25, at Navarra Gardens in Willamina.
More like this story