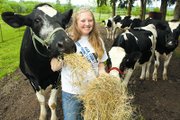 INDEPENDENCE -- There's a long list of duties that come with being a Dairy Princess-Ambassador. Emma Miller said she's ready for all of them.
Miller will figure prominently in Tillamook's Dairy Parade in June, and the Polk County Fair and Oregon State Fair later this summer. There will be a host of coronations to attend and regular duties promoting the dairy industry.
Miller, an 18-year-old who lives on her family's farm just outside Independence, said the only stress the title has caused was coordinating her own coronation last week.
"There were so many little details and they're all important," she said, then added with a laugh: "I can understand now why people hire wedding planners."
Miller, a soon-to-be graduate of Central High School, was crowned as Polk County's first dairy princess in eight years at the county fairgrounds in Rickreall on Friday.
Miller spearheaded an effort to resurrect the local version of the program -- which is overseen by the Oregon Dairy Women -- during the last several months.
"We're excited. It was a neat conversation when Emma contacted us," said Maril Rueck, state director of the dairy princess-ambassador program. "We may be able to get
more girls involved, depending on how much attention Emma can draw to it."
Before Emma Miller, the last Polk County Dairy Princess-Ambassador was Lisa Letsch in 2004.
Princesses serve as spokeswomen at schools and public events for Oregon's dairy industry and the nutritional benefits of dairy products. They also receive thousands of dollars in scholarships.
When the program began nearly 60 years ago, participants were mostly daughters of dairy farmers, Rueck said. The number of dairy farms in the state, however, has dropped from about 450 in 1996 to perhaps 200 today, she added.
To keep the princess program viable, ODW expanded qualifications to include daughters of dairy employees, young women who've done 4-H and FFA projects, or are studying dairy science.
There are 11 counties with dairy princess programs this year, Rueck said.
"We'll have a court of about 10 in 2012," she said. "That's a jump from the six or seven we've been having."
Miller has worked with dairy cows since she was 11 and has her own small herd of Holsteins. She's juggled milking duties with her FFA, 4-H and National Honor Society responsibilities at Central High.
"I like hanging out with animals," she said. "Any person with a dog or a cat knows they have their own personalities. Cows are the same way."
Miller will attend Oregon State University to double major in animal science and education and plans to be an agriculture teacher. She said she'll do her best to ensure the county's dairy princess program continues after her reign.
"You have to create a spark to start a fire," she said. "My hope is that there will be other young ladies who want to get involved."