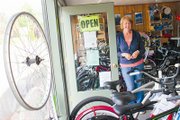 DALLAS -- Since Santiam Bicycle closed its Dallas location in November 2009, Polk County has not had a full-service bike shop.
That is until Electric Peddler began selling a line of bikes -- that is, bikes that are non-battery-assisted -- at its new location on Ellendale Avenue in April.
And as soon as this fall, West Salem resident and professional mountain bike racer Evan Plews is planning to open another shop in town serving a wide range of cyclers, but specializing in racing bikes and accessories.
Electric Peddler moved from Debbie and John McCleery's garage last month as a result of its booming bicycle repair services.
That part of the business grew so quickly that Debbie McCleery had to hire two repair technicians and find a bigger location.
Opening a store also allowed her to give serious consideration to incorporating "regular bikes" to the product line she sells.
"I've always wanted to sell regular bikes, but couldn't do it out of my garage," McCleery said. "I really believe Dallas needs a bike shop, so I'm going to give it a try."
Plews, a former Dallas resident, has the same belief about the need for a shop in the area.
Graphic by Pete Strong
West Salem resident Evan Plews plans to open a bike shop at 365 N. Main St. in Dallas this fall.
In fact, he was among those who encouraged Santiam Bicycle to open its former Dallas location. He even contemplated opening one himself, but was busy with his racing career at the time.
He's since moved to West Salem, but is convinced that the store didn't shut down due to lack of customers.
"I was disappointed to see the shop close," he said, adding that Santiam had gone through a change in ownership. "The store was a casualty of the reorganization. It didn't have to do with the market."
To help serve a segment of that market, Plews plans to open a shop later this year on Main Street in Dallas focused on supporting the bike racing community. Plews said he would serve bikers of all skill levels and disciplines, but will likely be doing a mostly custom-build jobs for racers.
Plews, 35, said after having raced the last several years across the country and internationally, he wanted his next venture to be closer to home.
"I haven't completely given up racing, but we have a family now," Plews said. "I want to stay connected to the sport and opening the shop will be my way of doing that."
McCleery said since opening Electric Peddler, her suspicions about the need for a bike shop were confirmed by customers who have stopped in.
"For every one person I had asking about electric bikes, I had five asking about nonelectric bikes," she said. "I felt I had to do it."
McCleery said she is selling a line of Torker nonelectric bikes and plans to carry Trek bikes soon. She said the bicycles will be a step up from what is sold in big box stores.
"They are a better quality bike, but not terribly pricey," she said.
Though still a new enterprise, McCleery believes there is a market here for not only electric bikes, but traditional bikes as well.
"We have a pretty big biking community in this area," she said.
Need a Bike?
What:
Electric Peddler.
Where:
1385 E. Ellendale Ave., Dallas.
Hours:
Weekdays, 4:30 to 6 p.m.; Saturday and Sunday, 10 a.m. to 5 p.m.; and by appointment.
Of note:
Full-service repair available. Basic tuneup is $32.
For more information:
503-931-2528.